The Whole Foods and Calorie Deficit Diet for Effective Weight Loss
The key to successful weight loss and a healthy diet are whole foods, exercise and calorie control. Many people are relatively sedentary, so even if they eat healthy whole foods and avoid processed high carb 'fast foods' they may still eat more calories than they burn each day. Adopting a whole foods only diet is a great start and has many proven health benefit, but if you don't exercise and manage your energy intake to your activity level you won't lose weight.
Calorie counting to create and maintain a calorie deficit is the proven and only effective way to lose weight. This is common sense. To lose weight you need to burn more calories each day than you eat. You burn calories via your standard sedentary activity - your standard metabolic rate at rest. You burn more calories though exercise. The weight you lose is equivalent to the excess amount calories you burn or expend, over the amount of calories you consume in food.
So the key to an effective diet involves major life-style changes:
Eat less,
Eat Better Food - Whole Foods, Nothing Processed,
Exercise More
Keep track of your calories eaten and burned
Keep in Calorie Deficit mode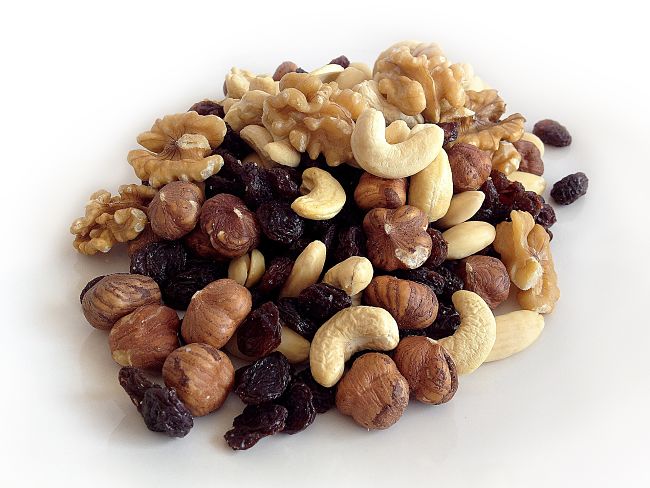 Minimum Number of Calories to Eat When Dieting
The average daily intake for most people with a normal lifestyle is 8,700 kilojoules, or about 2,000 calories. For most people this is the diet that will help them maintain their weight. But, how many fewer calories should consume to lose weight? Surely more is better and the less you eat the faster you will lose weight. Most health authorities recommend a minimum of around 6,300 kilojoules (about 1,500 calories) per day. In general, this will produce a calorie deficit of 500 calories per day which should lead to a loss rate of about 0.5 kg or 1 lb per week. This slow and steady approach works best and helps you stay healthy.
Disadvantages of Super Low Calorie Diets
Many have suggested much lower calorie consumption rates, such as 1200 calories or 800 calories per day for weight loss. What are the potential problems with these low consumption rates?
Inadequate Nutrition - Eating very small amounts of food or vast amounts of low-calorie foods such as cabbage will simply mean you may not eat enough to give your body the adequate nutrition it needs each day. What yiou eat is vitally important when dieting to ensure you get adequate nutrition such as vitamins and minerals. High quality, nutritious, whole foods and unprocessed foods gives you more 'bang-for-buck' when you are eating less food.
Protein Loss - When you try to lose weight too quickly, you may lose muscle mass. This occurs because it is easier for your body to break down protein as a desperate energy reserve rather than fat.
Slow Down in Metabolism - Eating very low calories will tend to make you feel lethargic and perhaps stop exercising. Maintaining muscle mass burns a lot of calories even for low exercising rates. So, having a bigger muscle mass, will lead to a higher metabolic rate. Increasing your level of exercise, burning more calories each day is a better way to go. Remember that the calorie deficit equation has two components => calories eaten and calories burned. Exercising more while maintaining a calorie intake of 1200-1500 calories per day of whole and unprocessed foods is a better weight loss strategy.
Whole Food Benefits : Pros and Cons
Basing your diet primarily on whole, fresh foods and eliminating all processed foods, especially high carb ones, will help you stay healthy and is a good basis for a weight loss diet. But there are several Pros and Cons.
Pros - Whole foods nourish your body and provide good nutrition including vitamins, minerals and antioxidants. They are also rich in fiber and are generally bulky filling you up and taking longer to digest, prolonging the drop in blood sugar between meals that can lead to excessive snacking. Whole foods offer variety, taste and can be very satisfying. Whole foods do not have added starches, sugars, preservatives, fats, flavorings, or other manufactured ingredients.
Cons: Some whole foods can be very energy dense and rich. This means that they contain very high amounts of calories and energy in very small volumes, or servings of food. Good examples are nuts, seeds (due to their high oil content), fatty fish (high fat), avocado, olives, dried fruit and some high fat breads and meats. So it is clearly possible to consume excess energy while eating these healthy foods. Clearly you need to be aware of how many calories you are consuming, even when on a strict whole food diet that eliminates fatty foods. Partially processed foods such as wholemeal breads can have very high calorie contents. So eliminating bread is a good idea. Many so-called healthy loaves can contain many additives such as oils, fats and seeds. Whole foods can also be relatively more expensive and more difficult to source. Why not grow your own!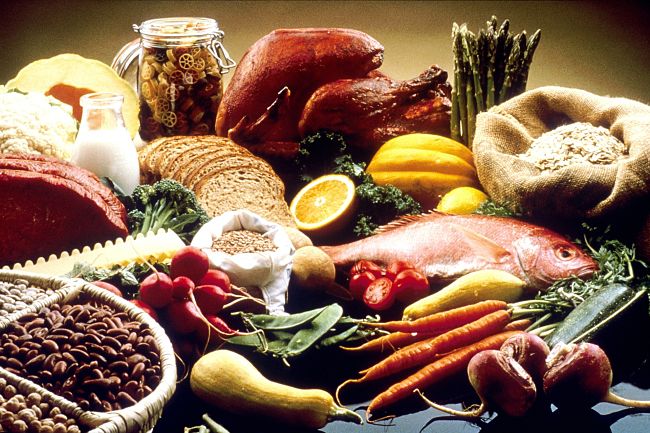 Whole Food Basics for a Healthy, Balanced Diet
The whole foods diet is not a specific eating plan.
The simple idea is to restrict what you eat to whole foods, that is unprocessed or raw foods. Some examples are:
Whole grains instead of flour,
Raw meats rather than hams and sausages
Rolled oats instead of breakfast cereals,
Fruit and vegetables instead of bread and all baked goods
Whole potatoes instead of potato salad or potato chips,
Grilled chicken thighs or breast instead of chicken nuggets.
Look for foods that have not been processed in any way and which contain no artificial ingredients, preservatives, or additives. There is a wide range of foods to choose from including meats and poultry, cheese, grains, fruit, vegetables, nuts, beans, peas and and many more.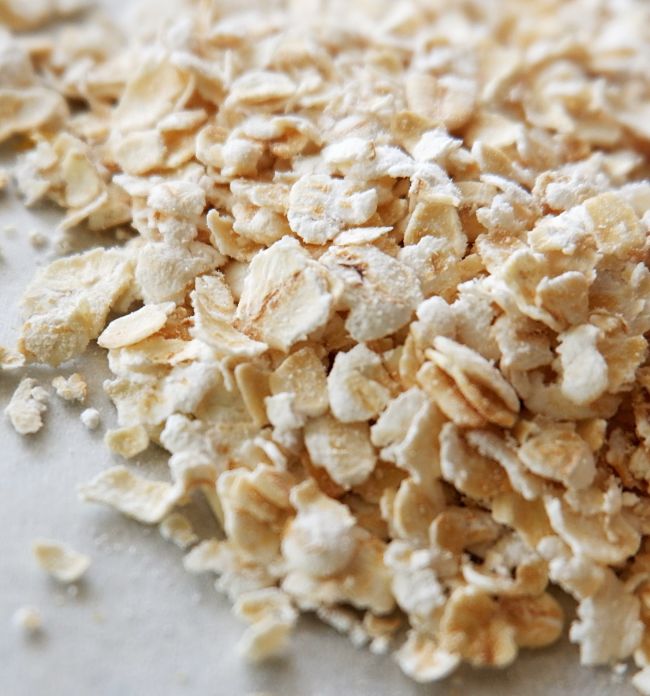 What to Foods to Eat for a Whole Foods Eating Plan
Nuts
Seeds
Eggs - Free range eggs
Poultry - Free range preferred
Milk and less processed dairy products
Seafood - All wild caught seafood such as shrimp, squid and shellfish
Minimally processed foods - generally snap frozen vegetables and seafood
Fresh and Dried legumes and pulses (such as black beans, lentils, chickpeas)
Meat - pasture fed beef and sheep preferred. Most pork is artificially fed
Fish - Fresh or frozen fish (such as halibut, cod, salmon, snapper, sea bass)
Fresh and frozen fruits (such as berries, bananas, apples, grapefruit, oranges, stone fruits)
Foods naturally containing healthy fats (such as avocados, chia seeds, walnuts, almonds and olive oil)
Dairy products with less processed varieties preferred such as Greek yogurt, feta cheese, Parmesan, cottage cheese
Vegetables - especially dark leafy greens (kale, Swiss chard, spinach, bok choy). All whole vegetables are included such as broccoli, bell peppers, eggplant, cauliflower, Brussels sprouts, , carrots, etc.
Whole grains (such as quinoa, barley, amaranth, brown rice). The good choices also includes whole wheat, rolled oats and many of the modern whole grains. White flour is not a whole food because the bran and wheat germ have been removed and the flour is bleached.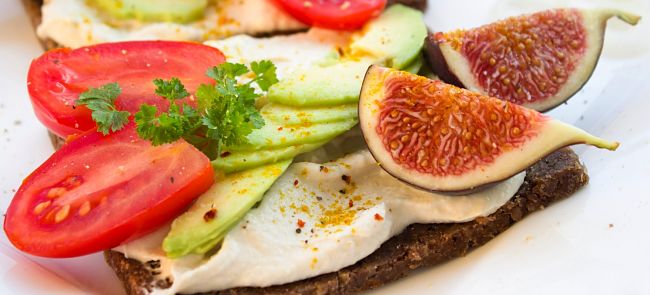 What Foods to Avoid
Prepared and ready-to-eat foods & fast foods
Heavily processed foods such as bread, biscuits and cakes
Foods containing refined carbohydrates. Avoid foods made with white flour or sugar. Many prepared ready-to-eat foods may look like whole foods, but they often include extra ingredients used to change their taste and appeal
Foods with added sugars such as breakfast cereals
Foods with added fats, such as breads and many fatty foods such as pasta and pizza dishes.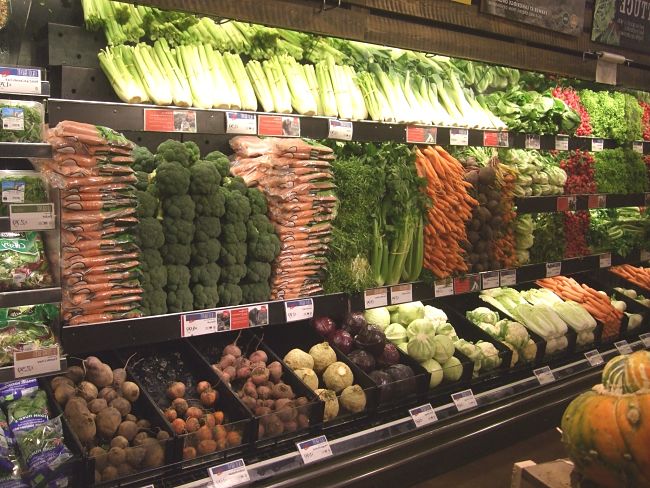 Try this App >CalDef - Tracker WebApp - The Calorie Deficit Path to Weight Loss