Smoothies for Weight Loss
Various studies have shown that the fundamental cause of the obesity epidemic and tendency for people to put on weight as they get older is passive over-consumption of calories. The food we buy and eat is mostly processed food that has high calorie densities - that is the number of calories is very high relative to the volume of the food.
Most of the processed food we eat contains high levels of fat and sugar. People consume too many calories simply by eating 'normal' foods in the 'normal' way. It is the food, which is the major problem. See - At Last - Cause of Global Obesity Identified - We Passively Eat Too Many Calories. People have also tended to eat large portion sizes, and to eat more snacks between meals, and adds to the problem.

One way to address the problem of high calorie foods and meals is through meal replacements. The best way of doing this is by making your own weight loss smoothies.
You can buy various powders and prepared smoothies, but there is always concern about the ingredients and the expense. Fresh is generally better.
You may be surprised if you look at the list of ingredients - many commercial smoothies contain lots of sugar in various forms and can contain 400 to 700 calories per serve.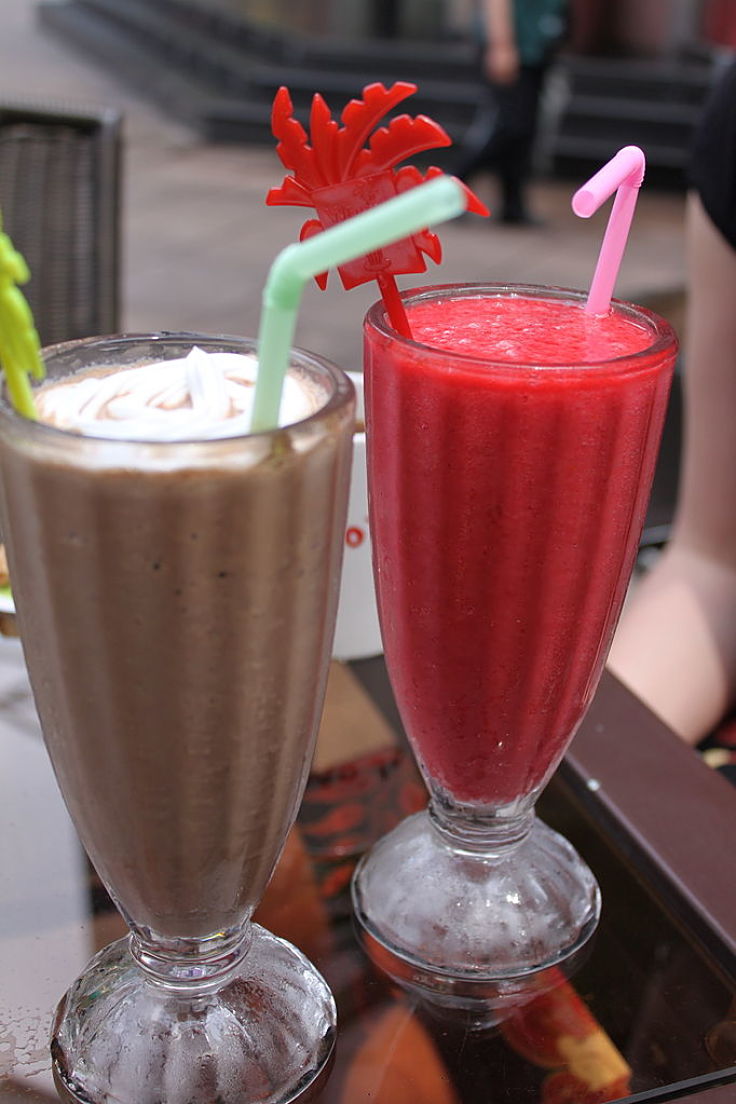 Homemade Smoothies
When you make your own smoothie or shake, you can add fresh whole fruits and nuts, grains such as rolled oats and minimum the sweetness using honey. The extra fiber from the oats and fruits will make you feel full for longer periods, which will help you control your appetite. In addition, fiber in your food is known to help slow down the release of sugar into the blood. This stops a surge of sugar that can trigger hormone release, and results in more stable blood sugar levels and helps control sugar cravings. You also can add other ingredients to create a high protein shake. These ingredients include low fat milk, yogurt, whey extracts from skim milk, wheat germ, protein powder, nuts and other healthy ingredients. But beware you measure these ingredients carefully and add up all the calories in them to keep the smoothie within the calorie cap you have set. Health experts in various countries recommend everyone eats 2-5 pieces of fruit a day and this is a good way of meeting this need in your daily diet.
Basic Healthy Smoothie Recipe
You can easily make your own low-calorie fruit-based smoothie or shake for a snack or to replace a meal. Simply blend together 1/2 cup fresh (or frozen) blueberries or strawberries with 1/4 cup low fat yogurt, 1/2 cup fresh skim milk and 2 teaspoons of honey. You can add protein powder for a richer smoothie. One serving of this fruit low-calorie smoothie adds up to less than 200 calories.


Tips for Making a Low Calorie Smoothie
When making your own low calorie smoothie, always use low-fat or skim milk instead of full cream milk. Also, use non-fat yogurt or ice cream instead of the regular varieties.
Use ice to thicken your smoothie, which makes it more appealing. Ice is calorie-free and will make it more refreshing, especially on a hot day.
Use green tea or pure water for the extra liquid required for the smoothie.
Always try to use whole fresh fruits that are rich in vitamins, minerals, antioxidants and especially fiber. Whole fruits provide a natural sweet taste. The fiber they contain helps control blood sugar levels, generates a feeling of fullness and adds bulk.
The best fresh or frozen fruits with low calories are: watermelon, strawberries, blueberries, papayas, pineapples, lemons, apples and honeydew melon. When using canned or frozen fruits, always ensure they have no added sugar.
For extra flavour and vitamins add various leafy green vegetables to your smoothie. You can use spinach and lettuce and a variety of other vegetables which add fiber, vitamins, antioxidants. Green vegetables contain very few calories.
Whey Protein Smoothies
Proteins are crucial parts of most weight loss programs because they increase your metabolism, replace carbohydrates and keep you feeling full for longer after meals. Whey protein powder that is extracted from milk and is lactose-free and fat-free. Whey protein is easily digested and is the favourite source of protein for body builders and for those who want to increase their lean muscle mass to replace body fat. A single serving of whey protein provides 80 to 100 calories.

To make a simple smoothie for weight loss based on whey protein, simply blend a scoop of whey protein powder with 1 cup skim milk or 1 cup of fruit juice. Add a few ice cubes for a shake-like texture and blender thoroughly.
You can use the various flavored whey protein powders, but beware of strange ingredients and sugar - always read the list of ingredients very carefully. You can easily make a fresh whey extract from skim milk - How to Make a Protein Shake.

Low-Calorie Dessert Smoothies

Many people find it hard to skip desserts when trying to lose weight. You can easily make a low-calorie weight-loss dessert smoothie by blending 1 frozen banana, 1 cup almond milk and 1 tablespoon of almond butter, and a dash of honey if required. You will have a great thick smoothie for dessert that contains about 225 calories.

Below are a selection of other weight-loss smoothie recipes that will help you lose weight. Use a variety of fruits and vegetables for different flavors depending on your taste and availability of ingredients.
Recipes to Try to Help You Lose weight
Healthy Berry Smoothie
3 cups water
1 cup frozen blueberries
1 cup frozen strawberries
3 leaves of chard, rinsed
1 banana, peeled and sliced
1 big handful of fresh baby spinach leaves
Add ice cubes or crushed ice for a thicker smoothie.
Puree all ingredients to the desired consistency in a blender.
Banana and Orange Smoothie
1 banana
6 ice cubes
1 cup orange juice
1/2 cup low fat yogurt
1 orange, peeled, seeded and sliced
Pulse until smooth in a blender
Banana, Ginger, Spinach and Romaine Weight Loss Smoothie
1 banana
1 cup water
5 ice cubes
a handful of spinach
1-2 tablespoons honey
a handful of romaine lettuce
1 piece of fresh ginger, peeled
Pulse all ingredients in a blender until smooth. This smoothie is quite thick
Mango and Peach Smoothie Recipe
1 tablespoon honey
1 2/3 cups Low fat milk
3/4 cup mango and peach reduced fat Greek yogurt
Place all ingredients in blender and pulse until smooth and well combined.
Fat Burner Smoothie Recipe
1.5 cups of avocado
1.5 cups of green tea
1.5 cups of blueberries
3 tablespoons of oatmeal
Add the green tea, sliced fruit and avocado to a blender and pulse until smooth. Add the oatmeal and blend, slowly at first, faster as the mixture becomes smooth.
Shed those Pounds Smoothie Recipe
2 cups of guava
1.5 cups of kiwi fruit
1.5 cups - low fat milk
1 tablespoon of almonds
Put the low fat milk to the blender first and add the other ingredients in turn.
Kill that Tummy Fat Smoothie Recipe
2 cups - guava
2 cups of low fat milk
4 tablespoons of almond extract
1 1/2 cups of fresh grapefruit pieces
Blender until smooth
Shed the Spare Tire Smoothie Recipe
1 1/2 cups of green tea
1 1/2 cups of blueberries
1 1/2 cups of blackberries
2 tablespoons of fresh ginger, chopped
Blend until smooth
Lose that Flab Smoothie Recipe
1 cup of avocado
1 cup of blackberries
2 tablespoons of oatmeal
2.5 cups of low fat plain Greek yogurt
Blend until smooth, slowly at first
Slim Down Now, Weight Loss Smoothie Recipe
1 1/2 cups of guava
2 tablespoons of oatmeal
1.5 cups fresh orange pieces
1 1/2 cups of low fat vanilla ice cream
Add to a blender and pulse until smooth
Bye Bye Love Handles Smoothie Recipe
2 cups - dates
1 cup of kiwi fruit
2 cups of low fat milk
1 tablespoon of walnuts
Add to a blender and pulse until smooth and well combined
Berry and Oranges Smoothie Recipe
2 cups of oranges
1 cup of orange sherbet
1.5 cups of blackberries
1 tablespoon fresh ginger, chopped
Add to your blender and pulse until smooth on a medium setting
Drop Some Pounds Smoothie Recipe
1.5 cups of guava
2 cups of green tea
1 cup blackberries
4 tablespoons of walnuts
Blend until smooth and well combined.
Related Articles about Smoothies
=> Are Fruit Smoothies Actually Healthy? Fact or Fiction?
=> Healthy Breakfast Fruit Smoothies - Best Tips and Recipes