Food Sugar Content Chart in Teaspoons for Cereals, Snacks, Fruit, Common Foods
A spoon full of sugar may make the medicine go down, but it certainly doesn't help weight loss and blood sugar levels.
As people try to cut down on sugar and beat the cravings for sugar and addition for sugar and corn syrup they face a dilemma – How much sugar is in various types of food?
Seeing it in grams on the food labels does not help very much, as it is hard to visualize what are high, low or moderate levels.
There is strong evidence that processed foods, especially those with added sugar and fat are a major cause of the obesity epidemic that is raging throughout the world with no sign of abatement.
Most people don't understand the concept of a daily allowance for calories sugar or fat. It is hard to visualize what this means and what various foods contain in terms of calories, food and fat.
This is why having 'traffic lights' systems and 'Star' ratings and other visual symbols on food labels is so important.
What helps to understand how much sugar is in foods of various types is to show it in teaspoons of sugar, granulated sugar.
This article has collected all the information on sugar contents of food are shows it in chart with teaspoons of sugar equivalents. For this project the glucose, fructose and other natural sugars have all been converted to equivalent amounts of sucrose.
Some of these sugars occur naturally in foods and some of them are added. This matters very little, it is the total count of sugar that matters. The amounts shown are equivalent to the total sugar content shown on food labels.
Total carbohydrate includes starch and lactose which are not readily available sugars like glucose and sucrose and fructose. The sugar content of foods is closely related to its Glycemic Index and Glycemic Load.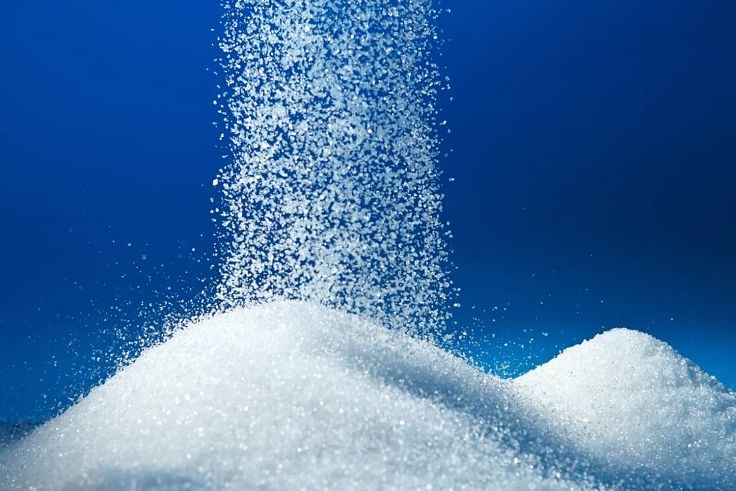 How Much Sugar Should We Eat in a Day? Why Does it Matter?
Sugar is a very simple form of carbohydrate, with three main types glucose, sucrose and fructose. Lactose found in milk products is also a relatively simple sugar. Sugars occur in the form of monosaccharides (one sugar unit) or disaccharides (two sugar units).
Glucose, Fructose and Galactose and are monosaccharides,
Sucrose, Lactose and Maltose are disaccharides. Sucrose, commonly known as table sugar, consists of one molecule of fructose and one of glucose.
Starches are polysaccharides, made from more than two sugar units.
The body can only directly absorb monosaccharides such as glucose and fructose, and not the more complex sugar. Sucrose processing in the body does not start until the sugar reaches the small intestine, where the bond between the glucose and fructose molecules is severed using the enzyme sucrase. Blood from the small intestine passes through the liver. The blood sugar, mostly in the form of glucose is supplied via the blood to all the cells in all the tissues in the body
Glucose not immediately used for energy is converted via glycogenesis into the molecule glycogen. This is the body's temporary energy store, mostly in the liver and muscles. Glycogen can be quickly converted back into glucose as needed when there is extra demands for energy or the blood sugar levels drop.. When the glycogen stores are fully charged up to capacity any excess blood sugar is converted to fat and other molecules. Fructose, like glucose is not stored in the body.
In a sense pure sugar is the fuel that keeps the body functioning, and is the energy source for most activities such as walking and running. Eating sugar is like putting petrol into your car. It is all about energy. But consuming too much sugar can be bad for you as most excess is converted to fat after the glycogen stores ate topped up. Excess sugar consumption can lead to many health problems particularly becoming overweight or obese
How Much Added Sugar Should be Consumed Daily.
The American Heart Association (AHA) currently recommends that men consume no more than 150 calories from added sugar per day, and women 100 calories.
One teaspoon of sugar contains about 4.2 g of sugar which yields 16 calories.
So the recommendation translates to about:
10 teaspoons of added sugar a day for men and
7 teaspoons of sugar for women.
Other advice is not to consume more than 13 teaspoons of sugar a day.
Teaspoons of Sugar in Common Foods and Drinks
Listed below are the sugar contents in teaspoons of many common foods and beverages. The serving sizes are shown and the foods in the list are shown from lowest sugar at the top and highest at the bottom. Many of the results may surprise and even shock you. The lowest and highest four foods in each category are shown below:
Teaspoons of Sugar in Confectionery
Highest
Marshmallows (100g) - 14.5 teaspoons of sugar
Milk chocolate bar (44g) - 5.75 teaspoons of sugar
Snickers bar (57g) - 7 teaspoons of sugar
Milky Way bar (58g) - 8.5 teaspoons of sugar
Dove chocolate bar (37g) - 5 teaspoons of sugar
Starburst packet (45 grams) - 5.5 teaspoons of sugar
Lowest (note small servings)
Liquorice, 1 strip - 1 teaspoons of sugar
Caramel 1 piece (10g) - 1.7 teaspoons of sugar
Chocolate mint 1 piece - 2 teaspoons of sugar
Hard-boiled sweets, 3 sweets - 2 teaspoons of sugar
-----------------------------------------------------------------------------------
Teaspoons of Sugar in Beverages
Highest
Fruit juice drink, orange, 1 glass – 7 teaspoons of sugar
Red Bull (one can) - 7.5 teaspoons of sugar
Cola, 11 fl. oz. – 9 teaspoons of sugar
Soft drink, 1 can – 10 teaspoons of sugar
Flavoured milk, 300 ml carton – 5.5 teaspoons of sugar
Lowest

Milk, plain, 1 cup – 0 teaspoons of sugar
Lemonade (Diet); 100g Serve - 0.8 teaspoons of sugar
Lucozade Sport; 100g Serve – 0.8 teaspoons of sugar
Cranberry Juice; 100g Serve - 2.8 teaspoons of sugar
Orange squash (one glass) – 2.3 teaspoons of sugar
-----------------------------------------------------------------------------------
Teaspoons of Sugar in Breakfast Cereals
Highest (1 bowl)
Frosted Flakes - 8.9 teaspoons of sugar
Lucky Charms – 9 teaspoons of sugar
Cocoa Puffs - 9.3 teaspoons of sugar
Cocoa Krispies - 9.6 teaspoons of sugar
Froot Loops - 10.6 teaspoons of sugar
Honey Smacks – 14 teaspoons of sugar
Lowest (1 bowl)
Corn Flakes – 1 teaspoon of sugar
Cheerios - 1.1 teaspoon of sugar
Rice Chex - 2 teaspoons of sugar
Rice Krispies - 2.5 teaspoons of sugar
Sultana Bran - 2.5 teaspoons of sugar
------------------------------------------------------------------------------------
Teaspoons of Sugar in Cookies, Cakes, Desserts
Highest
Cake, frosted, 1/16 average - 6 teaspoons of sugar
Angel food cake 4 oz piece - 7 teaspoons of sugar
Chocolate cake, iced 4 oz piece - 10 teaspoons of sugar
Scones - Fruit; 100g Serve – 5.3 teaspoons of sugar
Chocolate Fudge Cake; 100g Serve - 7.2 teaspoons of sugar
Madeira Cake; 100g Serve – 7.3 teaspoons of sugar
Sponge Cake; 100g Serve - 8.6 teaspoons of sugar
Country Slice; 100g Serve – 9.9 teaspoons of sugar
Ice Cream Sauce; 100g Serve – 15.9 teaspoons of sugar
Lowest
Bread, 1 slice – 0 teaspoon of sugar
Muffin, 1 medium - 0 teaspoon of sugar
Banana Cake 4 oz piece - 2 teaspoons of sugar
Doughnut, 1 medium - 2 teaspoons of sugar
Brownie, no icing 1 oz piece - 4 teaspoons of sugar
Pound cake, 1 slice – 4 teaspoons of sugar
Danish pastry, 1 slice - 4 teaspoons of sugar
Milk Arrowroot, 2 biscuits - 0.5 teaspoons of sugar
Savoury Biscuit; 100g Serve - 1.3 teaspoons of sugar
Oatmeal cookie 1 cookie - 2 teaspoons of sugar
Fig Newtons Biscuit 2 cookies - 3 teaspoons of sugar
Gingersnaps Biscuit 1 cookie - 4 teaspoons of sugar
Teaspoons of Sugar in One Bowl of Common Breakfast Cereals
| Type | Food (1 bowl) | Equivalent Spoonfuls of Sugar (4.2 g per spoonful white granular sugar) |
| --- | --- | --- |
| Breakfast Cereal | Shredded Wheat | 0.1 |
| Breakfast Cereal | Corn Flakes, 1 bowl | 0.5 |
| Breakfast Cereal | Cheerios | 1.1 |
| Breakfast Cereal | Rice Chex | 2 |
| Breakfast Cereal | Corn Flakes | 2.4 |
| Breakfast Cereal | Rice Krispies | 2.5 |
| Breakfast Cereal | Sultana Bran, 1 bowl | 2.5 |
| Breakfast Cereal | Wheat Chex | 2.6 |
| Breakfast Cereal | Corn Chex | 2.8 |
| Breakfast Cereal | Fruit Loops, 1 bowl | 3 |
| Breakfast Cereal | Special K | 3 |
| Breakfast Cereal | Muesli, 1 bowl | 3 |
| Breakfast Cereal | Wheaties | 3.8 |
| Breakfast Cereal | Banana Nut Crunch | 4.7 |
| Breakfast Cereal | Alpen | 5 |
| Breakfast Cereal | Raisin Bran | 7.8 |
| Breakfast Cereal | Trix | 8 |
| Breakfast Cereal | Honey Nut Cheerios | 8.3 |
| Breakfast Cereal | Cocoa Pebbles | 8.6 |
| Breakfast Cereal | Cookie Crisp | 8.7 |
| Breakfast Cereal | Golden Grahams | 8.8 |
| Breakfast Cereal | Frosted Flakes | 8.9 |
| Breakfast Cereal | Reese's Puffs | 8.9 |
| Breakfast Cereal | Lucky Charms | 9 |
| Breakfast Cereal | Cocoa Puffs | 9.3 |
| Breakfast Cereal | Cocoa Krispies | 9.6 |
| Breakfast Cereal | Froot Loops | 10.6 |
| Breakfast Cereal | Honey Smacks | 14 |
Teaspoons of Sugar in Baked Goods, Dairy, Biscuits (Cookies) and Desserts
| Type | Food (serving) | Equivalent Spoonfuls of Sugar (4.2 g per spoonful white granular sugar) |
| --- | --- | --- |
| Baked Goods | Bread, 1 slice | 0 |
| Baked Goods | Muffin, 1 medium | 1 |
| Baked Goods | Danish pasty, 1 medium | 1 |
| Baked Goods | Doughnut, 1 | 1.5 |
| Baked Goods | Muesli bar, fruit, 1 bar | 1.5 |
| Baked Goods | Banana Cake 4 oz piece | 2 |
| Baked Goods | Cheesecake 4 oz piece | 2 |
| Baked Goods | Chocolate chip cookie 1 cookie | 2 |
| Baked Goods | Kaya bun, 1 medium | 2 |
| Baked Goods | Doughnut, 1 medium | 2 |
| Baked Goods | Muffin, 1 | 3 |
| Baked Goods | Brownie, no icing 1 oz piece | 4 |
| Baked Goods | Pound cake, 1 slice | 4 |
| Baked Goods | Danish pastry, 1 | 4 |
| Baked Goods | Glazed doughnut 1 doughnut | 4.5 |
| Baked Goods | Coffee cake 4 oz piece | 5 |
| Baked Goods | Cupcake, iced 4 oz piece | 6 |
| Baked Goods | Cake, frosted, 1/16 average | 6 |
| Baked Goods | Angel food cake 4 oz piece | 7 |
| Baked Goods | Chocolate cake, iced 4 oz piece | 10 |
| Biscuits | Milk Arrowroot, 2 biscuits | 0.5 |
| Biscuits | Savoury; 100g Serve | 1.3 |
| Biscuits | Oatmeal cookie 1 cookie | 2 |
| Biscuits | Fig Newtons 2 cookies | 2 |
| Biscuits | Gingersnaps 1 cookie | 3 |
| Biscuits | Shortcake; 100g Serve | 3.8 |
| Biscuits | Rich Tea Biscuits; 100g Serve | 4.8 |
| Biscuits | Chocolate Digestive; 100g Serve | 7 |
| Biscuits | Custard Cream Biscuits; 100g Serve | 7.1 |
| Biscuits | Gingernuts; 100g Serve | 7.4 |
| Biscuits | Chocolate Wafer-Fully coated; 100g Serve | 8.3 |
| Biscuits | Jaffa Cakes; 100g Serve | 12.4 |
| Dairy | Lowfat yogurt, unsweetened, 6 oz. | 0 |
| Dairy | Yoghurt, fruit, 200g tub | 6 |
| Dairy | Lowfat yogurt, fruit, 6 oz. | 7 |
| Dairy | Bandong | 8 |
| Dairy | Chocolate shake, 10 fl. oz. | 9 |
| Dessert | Ice-cream, 1 scoop | 2.5 |
| Dessert | Swiss roll (1 roll) | 2.5 |
| Dessert | Mango pudding | 3 |
| Dessert | carrot cake (one slice) | 3 |
| Dessert | Carrot cake (1 medium slice) | 3 |
| Dessert | Chocolate mousse (1 medium portion) | 3 |
| Dessert | Cornetto (1 cone) | 3 |
| Dessert | Ice cream (1 scoop) | 3 |
| Dessert | Custard (1 medium portion) | 3.25 |
| Dessert | Donut (1 jam doughnut) | 3.5 |
| Dessert | Fruit pie (1 medium portion) | 3.5 |
| Dessert | Rice pudding (1 portion) | 3.75 |
| Dessert | Gelatin dessert, 1/2 cup | 4 |
| Dessert | Banoffee pie (1 medium portion) | 4.25 |
| Dessert | Muffin (one chocolate chip muffin) | 4.75 |
| Dessert | Fruit cake (1 medium slice) | 5 |
| Dessert | Paddle Pop, 1 | 5.5 |
| Dessert | Sponge cake (1 medium slice) | 5.5 |
| Desserts | Instant Custard; 100g Serve | 1.6 |
| Desserts | Creamed Rice Pudding; 100g Serve | 2.1 |
| Desserts | Jelly; 100g Serve | 3.6 |
| Desserts | Ice Cream-vanilla; 100g Serve | 5 |
| Desserts | Scones - Fruit; 100g Serve | 5.3 |
| Desserts | Chocolate Fudge Cake; 100g Serve | 7.2 |
| Desserts | Madeira Cake; 100g Serve | 7.3 |
| Desserts | Sponge Cake; 100g Serve | 8.6 |
| Desserts | Country Slice; 100g Serve | 9.9 |
| Desserts | Instant Dessert Powder; 100g Serve | 12.8 |
| Desserts | Ice Cream Sauce; 100g Serve | 15.9 |
Teaspoons of Sugar in Confectionery
| Type | Food (serving) | Equivalent Spoonfuls of Sugar (4.2 g per spoonful white granular sugar) |
| --- | --- | --- |
| Confectionery | Liquorice, 1 strip | 1 |
| Confectionery | Caramel piece (10g) | 1.7 |
| Confectionery | Chocolate mint 1 piece | 2 |
| Confectionery | Hard-boiled sweets, 3 | 2 |
| Confectionery | Twix bar | 2.8 |
| Confectionery | Chocolate bar, 1 oz. | 3 |
| Confectionery | Tim Tarn, 2 biscuits | 3.5 |
| Confectionery | Milk chocolate, 6 squares | 4 |
| Confectionery | Dove chocolate bar (37g) | 5 |
| Confectionery | Starburst packet (45 grams) | 5.5 |
| Confectionery | Milk chocolate bar (44g) | 5.8 |
| Confectionery | M&Ms packet (45 grams) | 5.8 |
| Confectionery | Butterfinger bar (60g) | 6.9 |
| Confectionery | Snickers bar (57g) | 7 |
| Confectionery | Milky Way bar (58g) | 8.5 |
| Confectionery | Mars Bar, 1 bar | 8.5 |
| Confectionery | Toffees; 100g Serve | 8.9 |
| Confectionery | Plain Chocolate; 100g Serve | 11.1 |
| Confectionery | Kit Kat; 100g Serve | 11.4 |
| Confectionery | Boiled sweets bag (100 grams) | 11.5 |
| Confectionery | Milk Chocolate; 100g Serve | 12.6 |
| Confectionery | Snickers Bar; 100g Serve | 13 |
| Confectionery | Fruit Pastilles; 100g Serve | 13.3 |
| Confectionery | Boiled Sweets; 100g Serve | 13.4 |
| Confectionery | Pepper Mints; 100g Serve | 13.5 |
| Confectionery | Bounty 2 Bar Pack; 100g Serve | 13.8 |
| Confectionery | Marshmallows (100g) | 14.5 |
| Confectionery | Chrunchie; 100g Serve | 14.7 |
| Confectionery | Liquorice Allsorts; 100g Serve | 14.7 |
| Confectionery | Twix 2 Bar Pack; 100g Serve | 15.4 |
| Confectionery | Mars Bar; 100g Serve | 16.2 |
| Confectionery | Milky Way 2 Bar Pack; 100g Serve | 17.2 |
| Confectionery | Chocolate candy bar 1 bar | 4.5 |
Teaspoons of Sugar in Common Beverages
| Type | Food (serving) | Equivalent Spoonfuls of Sugar (4.2 g per spoonful white granular sugar) |
| --- | --- | --- |
| Beverages | Milk, plain, 1 cup | 0 |
| Beverages | Lemonade; 100g Serve | 0.8 |
| Beverages | Lucozade Sport; 100g Serve | 0.8 |
| Beverages | Tonic Water; 100g Serve | 1.2 |
| Beverages | Blackcurrant; 100g Serve | 2.3 |
| Beverages | Orange squash (one glass) | 2.5 |
| Beverages | Cola drinks; 100g Serve | 2.5 |
| Beverages | Cranberry Juice; 100g Serve | 2.8 |
| Beverages | Chocolate milk, 1 cup | 3 |
| Beverages | Orange Squash; 100g Serve | 3.1 |
| Beverages | Fruit smoothie (one glass) | 3.5 |
| Beverages | Hot chocolate (one mug) | 4.5 |
| Beverages | Orange juice 1oo%, 1 glass | 4.5 |
| Beverages | Sports drink, 600 ml | 5 |
| Beverages | Lemonade (one glass) | 5.5 |
| Beverages | Cordial (made up), 1 glass | 5.5 |
| Beverages | Flavoured milk, 300 ml carton | 6 |
| Beverages | Cola Drinks (one can) | 7 |
| Beverages | Fruit juice drink, orange, 1 glass | 7 |
| Beverages | Red Bull (one can) | 7.5 |
| Beverages | Cola, 11 fl. oz. | 9 |
| Beverages | Water chestnut drink, 12 fl. oz. | 9 |
| Beverages | Soft drink, 1 can | 10 |
| Beverages | Ice kachang, 1 bowl | 14 |
Teaspoons of Sugar in Common Fruits, Sauces, Spreads and Jams
| Type | Food (serving) | Equivalent Spoonfuls of Sugar (4.2 g per spoonful white granular sugar) |
| --- | --- | --- |
| Fruit | Fruit, canned in juice, 1/2 cup | 0 |
| Fruit | Strawberries 1 serving (147g) | 1.7 |
| Fruit | Fruit, canned in light syrup, 1/2 cup | 2 |
| Fruit | Pineapple 1 serving (112g) | 2.1 |
| Fruit | Cantaloupe 1 cup cubes (160g) | 3.1 |
| Fruit | Peach 1 large (184g) | 3.6 |
| Fruit | Fruit, canned in heavy syrup, 1/2 cup | 4 |
| Fruit | Banana 1 large (140g) | 4 |
| Fruit | Watermelon 1 slice (280g) | 4.3 |
| Fruit | Red Seedless Grapes 126g - 4% waste) | 4.8 |
| Fruit | Navel Orange 1 large orange (270g) | 5.5 |
| Fruit | Apple 1 large apple (223g) | 5.5 |
| Sauces | Salad Cream; 100g Serve | 4.2 |
| Sauces | Brown Sauce; 100g Serve | 4.5 |
| Sauces | Tomato Ketchup; 100g Serve | 5.6 |
| Sauces | Sweet Pickle; 100g Serve | 5.7 |
| Spreads / Jams | Sugar, jam, or jelly, 1 . | 1 |
| Spreads / Jams | Peanut Butter - smooth; 100g Serve | 1.4 |
| Spreads / Jams | Syrup or honey, 1 tbsp. | 3 |
| Spreads / Jams | Chocolate Spread; 100g Serve | 11.9 |
| Spreads / Jams | Jam; 100g Serve | 12.5 |
| Spreads / Jams | Lemon Curd; 100g Serve | 12.8 |
| Spreads / Jams | Treacle; 100g Serve | 15.2 |
| Spreads / Jams | Marmalade; 100g Serve | 15.7 |
| Spreads / Jams | Syrup; 100g Serve | 19.2 |
| Spreads / Jams | Honey; 100g Serve | 20.2 |
| Tinned food | Peas; 100g Serve | 0.4 |
| Tinned food | Sweetcorn-Kernels; 100g Serve | 0.9 |
| Tinned food | Baked Beans; 100g Serve | 1.2 |
Related Articles on Calories, Dieting and Weight Control
=> Q&A Do Menus with Walking Times to Burn Calories Lead to Healthier Choices
=> Dieting Myths Debunked - Calories from Protein, Fat, Carbs are Equal
=> Proven Ways to Increase Metabolism Naturally - Create a Calorie Deficit
=> Why Calorie Counts for Protein and Fiber are Inaccurate
=> At Last - Cause of Global Obesity Identified - We Passively Eat Too Many Calories
=> Zero Calorie Snacks that Fill You Up - Stop Perpetual Snacking
=> Low GI Food List and Diet Tips using the Glycemic Index