Facts about Negative Calorie Foods - Calorie Density is What Matters
The concept of negative calorie foods is quite simple. For foods that have very few Calories and a lot of bulk fibre and indigestible material it is possible that your body may consume more Calories eating, digesting and processing the waste than is contained in the food itself. It is not that the food itself has 'negative Calories' as this is a nonsense - it is just that eating and processing this food is costly in terms of the energy that can be extracted. The net outcome of eating the food is never a negative, just really low.

For example, it has been claimed that 100 grams of broccoli contains only about 25 Calories, and that it takes our bodies 80 Calories to digest and process this quantity of broccoli. If this is true, then the net outcome from eating 100 grams of broccoli would be a loss of 55 Calories (80-25). However it appears that there is very little published information on the Calories required to eat, digest and process broccoli, and other similar foods, and so this outcome can not be confirmed.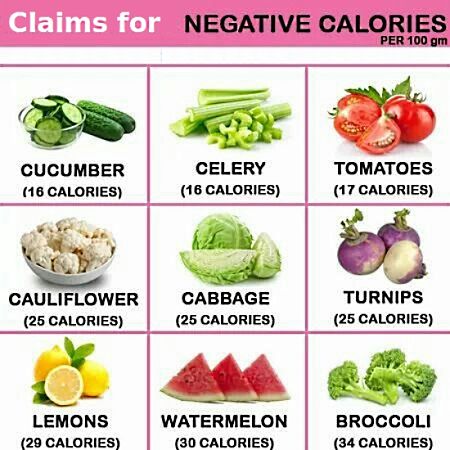 Negative Calories: Fact or Fiction, Myth of Truth?
There are other examples of the cost of food processing. The classic example is Celery. It is true that celery is very low in calories and it has a very low calorie density (that is calories per unit of weight, more about this later). Celery is about 95% water, 2% digestible carbohydrates and 2% per cent indigestible carbohydrates (cellulose). There are also very tiny amounts of protein and fat. The digestible carbohydrate in one very large stalk of celery (100 gm) will yield you only 14 food Calories, with about 7 Calories being indigestible cellulose. It has been estimated that it would require about 1-2 Calories to process the carbohydrate in the celery stick. But nobody had ever done the experiment of feeding people nothing but celery, to work out the energy cost of processing all the celery, not just the carbohydrate. There would obviously be extra energy required, not only to smash open the cells to extract the carbohydrate, but to deal with all the fibre and waste.
Clearly you would have to eat a huge amount of celery to sustain you basic energy requirements. For 2000 Calories per day eating only celery which has about 14 Calories per 100 gm, you would have to eat 14.3 kg of celery (28 pounds). If celery is indeed a negative Calorie food you would starve! There are other consequences of only eating celery, which need to be mentioned in public - Wind!

By the way, celery is nutrient poor and doesn't contain much of anything really. Nutritionally you are probably better off choosing darker greens such as Romaine lettuce, spinach, collard greens, kale, swiss chard, mustard greens, than celery, but this is a matter of taste, and celery has a nice crunch..

When you think about it, the argument is very similar to the 'Calorie Deficit' concept for losing weight. The idea is that you need some basic energy every day to maintain your basic metabolism, even at rest - to support your heart, breathing and the energy required to maintain your basic metabolism and to maintain your body temperature. On top of this is the extra energy you may burn through exercise. The notion is that you will only lose weight if the Calories gained from the food you eat is less than what you burn each day - that is you maintain a net Calorie Deficit.

So if you eat 1500 Calories in food, and your basal metabolic rate is 2000 Calories, and you walk for an hour a day (worth about 270 Calories at moderate pace), your net Calorie Deficit is 1500 - 2000 - 270 = 770 Calories which is equivalent to about 100 gm (0.22 pounds) of fat lost. To lose 1 kg of fat requires burning 7700 Calories; to lose 1 lb of fat requires burning 3850 Calories.
Reality Check - What are Calories?
You have to watch your Calories - not only what you eat but which calories you are talking about. Originally defined in 1824 by French chemist Nicolas Clement, a calorie (note: the small letter 'c') is defined as the quantity of energy required to increase the temperature of a single gram of water by 1 degree Celsius. BUT the food Calories (note: the large capital letter 'C') you see on food packets are actuallykilocalories - that is thousands of Calories. A kilocalorie is the amount of energy required to raise one kilogram of water by 1 degree C.
This is very confusing - the word "Calorie" on a food packet is probably spelled with a capital C, this is because the convention is that 1 food Calorie is equal to 1 kilocalorie (i.e. 100 gm of celery has 14 Calories which is equivalent to 14 kilocalories). Confusing isn't it!
The Calorie has been replaced by the Joule (usually kilojoules) as the international (SI) unit for energy, but is still used for food values. Food packets generally show Calories and grams (usually 100gm portions) as the units for comparisons.
The issue here is that when comparing food Calories as the energy content of food you have to be careful not to compare them with the energy expended in processing the food as calories burnt- as there is a 1000 fold difference.
Thermic Effect and How it Affects Calorie Counting

One way to look at negative Calories foods is to consider Basal Metabolic Rate (BMR) - the amount of energy you need to keep you alive when you are simply resting. This is measured by putting a subject into a chamber, and taking measurements of how much oxygen they consume, and how much carbon dioxide they produce. Surprisingly perhaps, these studies have shown that the digestion of an average meal, causes the resting metabolic rate to increase by 50 % for about four hours. However, most of the energy required to digest the meal does not come from the act of chewing, but from the energy required to break down the food in your stomach, the muscles that push it through your gut, and the energy consumed to break down and process the food in the gut.
About half is used to break down the food into smaller lumps in your stomach - to crush and liquidly it, and force it along the 10 m length of your gut, and to make the enzymes to chemically break down the food into molecules small enough to enter the cells lining the gut.
The other half of the energy is consumed by the cells re-assembling those basic molecules back into larger molecules, for example, combining amino acids to make proteins and molecules to make carbohydrates that we an use.
This is what is known as the Thermic Effect of food, which is the extra energy expended above the resting metabolic rate that is due to the cost of processing food for digestion, chemical breakdown, absorption, storage and re-synthesis into complex molecules for use.

All this activity can increase your BMR by 50%.
In humans, the energy expended in processing food varies with the food type. In percentage terms it is about 25 percent for proteins; 2 - 3 percent for fats; and about 5 -10 percent for average carbohydrates.
So if you eat a meal of 100 Calories consisting of each of these food types, after digestion you would be left with about 75 Calories from the protein, 97 to 98 Calories from the fat, and 90 to 95 Calories from carbohydrates.
Looking at celery as an example - it is about 95 per cent water, 2% digestible carbohydrates and 2% indigestible carbohydrates, and negligible amounts of protein and fat.
So strictly speaking, for the carbohydrate contained in the celery, about 2% of the extractable energy will be used to digest and process the celery and the rest (98%) will be available as extra Calories you can absorb - so the outcome will not be negative, in terms of the carbohydrate.
The digestible carbohydrates in 100 grams of celery amounts to about 8 Calories, while the indigestible carbohydrates will give you 4 Calories. The energy needed to process all these carbohydrates will be about 2 Calories, which leaves you with about 6 Calories.
So strictly speaking, the only way you can have a real negative food is when the energy required to process it is more than 100% of the energy readily available in the food (which is a nonsense).
However, the energy required to process the fibre, and other materials that don't yield energy to your body is not known, as it has not been measured, but may be more than 6 Calories which could give a net negative result.

There is a 14 Calories yield from 100 grams of Celery so in 1 kg of Celery there is just 140 Calories available. The body must move the entire1 kg bulk of ingestible fibre and water and break down the celery structure to process it, all for for a mere 140 Calories in return. Compare that to a single slice (40 gm) of white bread, which has about 100 Calories.

However, despite the processing energy not being known, the negative energy losses, if they are real are likely to be very small and insignificant.
Even if you ate one kg of celery and had a negative calorie outcome of 25%, this would only give you a loss of 35 Calories. An average sized person (180 pounds) can burn an equivalent 100 Calories per mile or 220 Calories per kilometre. Therefore it may be better to walk to burn Calories, rather than rely on eating mountains of celery.
A kilogram of fat is equivalent to about 7600 Calories. You would have to eat about 220 kg of celery to burn off 1 kg of fat (7600 Calories) with a Negative Calorie count of 35 Calories per kg.
In imperial measure terms - a pound of fat equals 3800 Calories; eating 1 pound of celery burns 16 Calories as negative Calories, and so you would have to eat 240 pounds of celery to lose a pound of fat.
Remember that these negative calorie estimates of 25% are very high and so the actual losses are probably much less. That's a mountain of celery you would have to eat!

So summarizing, contrary to general contention, masticating and ingesting the celery does not consume the Calories, rather it is the process of digesting the cellulose and fibre and processing the carbohydrate chemically that uses most for the energy. Although celery has a lot of stored energy, the proportion we can extract from it is very small because most of it is fibre and cellulose cannot be broken down and used. The break down of the plant tissues and cells walls may produce a net outcome of negative Calories, but the amounts are small, even if they are real. So eating negative calorie foods to lose weight is itself unlikely to be successful.
Whether the net energy is negative or not is not the real issue. You should take advantage of foods that have a :
low calorie density,
high nutrient density,
high fibre content
Errors with Calories Labels on Packets
The Calorie labels on food packets worldwide are founded on a scheme that Wilbur Olin Atwater developed in the late 19th century. Atwater calculated the energy available in foods by taking a small sample, burning it in a chamber and measuring the heat produced. He needed to account for the energy that was not extracted by humans and was lost in the waste ( faeces, urine etc.). He calculated and measured the energy in the waste, and when subtracted this from the total energy in the food. This gave the Calorie estimate for the food type. These original calculations and methods are still used today. However it is now known that there is considerable energy consumed by the body in processing the food (as discussed above). It has been estimated that these extra costs can decrease the number of Calories available in the meal by between 5 and 25 % depending on the type of food eaten, with the highest extra cost for proteins. Even though these errors are recognised there has been no decision to change the published values because the differences are quite small. These errors are related to what produces the negative calorie food concept. It means that the actual calories available in the foods is less than the published figure especially for proteins.
Calorie Density - Calories per Weight of Food and Calories per Volume of Food
If you want to change your weight - either to lose weight, gain weight, or just be healthy, the concept of Caloric Density in terms of the number of Calories per unit weight and Calories per unit volume is very important. This concept is probably more significant than the concept of Negative Calorie foods.
The Calorie Density of a given food is the estimated numbers of Calories in a given portion of food. The usual portions used are 100 gm of weight and a metric cup (1 cup = 240 ml ) for the volume. In this article I am going to use 100 ml as the volume (half a cup), because it is a better standard and it is the volume of 100 gm of water.
As an example, cooked brown rice has a Calorie Density of 1.35, which means that it has 1.35 Calories per gram weight, and 135 Calories per 100 gm of cooked brown rice. In terms of volume the relationship between the weight of brown rice and its volume is 0.78 gm/ ml. This means that the number of calories in 100 ml of cooked brown rice (half a cup) is about 106. ( 106 Calories / 100ml). This provides a good way of comparing foods in terms of density.
Why is this important? It is obvious that if you eat foods that have a low calorie density and a low calorie count for a given volume as a replacement for high density foods you will consume fewer calories. It is a matter of 'fullness' and 'bulk' of the food you eat. Most vegetables and fruits have a low calorie density. For example, a carrot has a density 0.44 (44 Calories per 100 gm) an apple has 0.59, a banana has 0.6 and a potato has 0.76. By comparison a piece of roast beef has a caloric-density of 3.31, a piece of chicken 2.12, pork 2.28, Bacon 5.56, Chocolate 5.00, and Olive oil 9.00.
In terms of volume a 100 ml portion of Apple contains 39 Calories, Banana 73, Celery 8 and Lettuce about 5. Compare these values with Beef 205, Chicken 160, 100 ml of French Fries 238, and Chocolate 400.

Clearly if we want to lose weight, you have to generate a calorie deficit. The thing to do is to mostly eat foods of low caloric density and to replace much of your old diet with foods like vegetables, fruits and grains. You will need to do this not just temporarily to lose weight, but permanently to keep your weight down.
It is the replacement of high density foods with low density foods for a given meal that can be effective is reducing you Calorie intake - 'filling up on bulky, high fibre foods'. It is a little more complicated however, because many of the low Calorie density foods are mostly 'bags of water'. Just drinking water will fill you up - but not for long. So you need to choose bulky, low calorie density foods, that are hard to process and stay in your stomach for a long time.
Shown below are detailed table of foods showing Calories per 100gm and Calories per 100ml portions. For cup volumes simply multiply by 2.
Note that these values are approximate as it is hard to get reliable values.Volumes depend in packing, and cooked foods vary considerably. Also the values from various sources differ considerably. The values shown provide a general guide for comparison purposes only.
Also shown are lists of the foods with the 20 highest and 20 lowest calorie densities.
20 Foods with Low Calorie Densities
| Food | Cal/100g | Cal/100ml |
| --- | --- | --- |
| Water | 0.001 | 0.001 |
| Iceberg lettuce | 13 | 3 |
| Chives, chopped fresh | 20 | 4 |
| Lettuce: Boston, Bibb | 14 | 4 |
| Chinese cabbage | 14 | 4 |
| Lettuce, Cos, Looseleaf | 18 | 5 |
| Watercress | 19 | 6 |
| Mushroom | 28 | 6 |
| Mushrooms, Chinese black | 28 | 6 |
| Chicory greens | 20 | 6 |
| Scallions (green onions) | 32 | 7 |
| Mushrooms, whole | 28 | 7 |
| Savoy cabbage | 24 | 7 |
| Parsley | 44 | 7 |
| Cucumber | 15 | 8 |
| Celery | 17 | 8 |
| Mushrooms, sliced | 28 | 8 |
| Endive (escarole) | 20 | 8 |
20 Foods with High Calorie Densities
| Food | Cal/100g | Cal/100ml |
| --- | --- | --- |
| Vegetable oils | 884 | 1326 |
| Lard | 890 | 1068 |
| Cod liver oil | 800 | 880 |
| Canola or Olive Oil | 847 | 847 |
| Oil, vegetable | 900 | 801 |
| Oils -corn, sunflower, olive | 900 | 801 |
| Olive oil | 900 | 729 |
| Butter | 740 | 712 |
| Hershey's Milk Chocolate | 536 | 697 |
| Hershey's Kisses | 533 | 692 |
| Margarine | 740 | 688 |
| Pepperoni | 829 | 663 |
| Mayonnaise | 705 | 656 |
| Pork rinds - fried | 617 | 556 |
| Chocolate, melted | 500 | 510 |
| Sunflower seeds | 600 | 510 |
| Macadamia nut | 691 | 484 |
| Pecan Nuts, raw | 690 | 483 |
| Hazelnuts, whole | 650 | 468 |
Alphabetical List of Calorie Densities - Part A
| Food | Cal/100g | Cal/100ml | Food | Cal/100g | Cal/100ml |
| --- | --- | --- | --- | --- | --- |
| Almonds, ground | 590 | 212 | Chickpea, dried | 360 | 180 |
| Almonds, slivered | 578 | 265 | Chicory greens | 20 | 6 |
| Almonds, whole | 578 | 416 | Chinese cabbage | 14 | 4 |
| Anchovies | 300 | 210 | Chips Ahoy cookies | 529 | 159 |
| Apple, dried | 275 | 220 | Chives, chopped fresh | 20 | 4 |
| Apples, diced | 53 | 34 | Chocolate | 500 | 400 |
| Apples, fresh | 53 | 32 | Chocolate chips | 500 | 380 |
| Apricot, dried | 260 | 166 | Chocolate, grated | 500 | 210 |
| Apricot, fresh | 51 | 39 | Chocolate, melted | 500 | 510 |
| Arrowroot | 366 | 348 | Chow Mein Noodles | 459 | 321 |
| Artichoke, globe | 47 | 42 | Cockles | 50 | 35 |
| Asparagus | 23 | 15 | Coconut (dried, sweetened, shredded) | 504 | 161 |
| Avocado, fresh | 160 | 128 | Coconut (raw) | 353 | 141 |
| Bacon, average grilled | 380 | 304 | Coconut, dried | 662 | 463 |
| Bacon, fried | 512 | 410 | Cod chip shop food | 200 | 160 |
| Bagels | 261 | 196 | Cod fresh | 100 | 80 |
| Bamboo Shoots | 27 | 31 | Cod liver oil | 800 | 880 |
| Banana | 91 | 73 | Collard leaves & stems | 40 | 12 |
| Barley, uncooked | 348 | 271 | Cookies | 500 | 150 |
| Beans, dried | 300 | 255 | Corn snack | 500 | 200 |
| Beef Jerky (store bought) | 282 | 198 | Corn tortillas | 236 | 95 |
| Beef or Chicken bullion | 141 | 141 | Corn, syrup | 281 | 416 |
| Beef, burgers frozen | 280 | 224 | Corned beef hash | 173 | 156 |
| Beef, cooked | 256 | 205 | Cornflakes | 370 | 111 |
| Beef, raw | 164 | 131 | Cornmeal | 381 | 274 |
| Beef, Roast | 280 | 224 | Cornstarch (cornFlour) | 381 | 244 |
| Beef, sausage | 350 | 280 | Cous Cous | 353 | 229 |
| Beet | 43 | 30 | Crab fresh | 110 | 88 |
| Beet greens | 24 | 14 | Crabapple | 68 | 61 |
| Biscuit digestives | 480 | 264 | Cracker Jack | 423 | 254 |
| Biscuit mix | 480 | 264 | Crackerbread | 325 | 195 |
| Black currant | 54 | 43 | Crackers - Goldfish | 476 | 286 |
| Black raspberry | 73 | 58 | Crackers, Nabisco Aircrisp Cheese Nip | 441 | 265 |
| Blackberry | 62 | 56 | Cranberries - Dried | 321 | 225 |
| Blue style cornmeal, or other types | 360 | 184 | Cranberries, Fresh | 45 | 19 |
| Bran, unsifted | 213 | 49 | Cranberry | 46 | 41 |
| Brazil nuts, whole | 653 | 418 | Cream crackers | 440 | 264 |
| Bread | 329 | 82 | Cream fresh | 195 | 215 |
| Bread crumbs | 329 | 82 | Crisps (chips US) average | 500 | 300 |
| Bread Naan (normal) | 320 | 80 | Croissants | 407 | 122 |
| Bread white (thick slice) | 240 | 60 | Crumpets | 198 | 40 |
| Bread wholemeal (thick) | 220 | 55 | Cucumber | 15 | 8 |
| Broccoli, flowerets | 32 | 10 | Cupcakes, cream filled | 399 | 100 |
| Brussels sprouts | 45 | 36 | Currants | 134 | 86 |
| Buckwheat groats | 200 | 144 | Damson plum | 66 | 59 |
| Butter | 740 | 712 | Dandelion greens | 45 | 41 |
| Cabbage, shredded | 18 | 13 | Date | 274 | 233 |
| Cake, Butter | 386 | 116 | Dates, chopped | 320 | 205 |
| Cake, fruitcake | 323 | 123 | Dates, pitted | 296 | 252 |
| Candy, Baby Ruth | 466 | 372 | Deviled ham spread | 282 | 226 |
| Candy, Balance Bars | 395 | 316 | Domino's Pizza Queen | 207 | 104 |
| Candy, Chewy Granola Bars | 388 | 310 | Donuts - Chocolate coated | 476 | 143 |
| Candy, Clif Bars | 353 | 282 | Doughnuts | 629 | 189 |
| Candy, Hard | 400 | 320 | Doughnuts, powdered | 423 | 127 |
| Candy, Little Debbie Nutty Bars | 536 | 429 | Dried Fruit Mix | 272 | 217 |
| Candy, M&M's - plain | 494 | 395 | Duck roast | 430 | 387 |
| Candy, M&M's, peanut | 519 | 415 | Egg Noodles | 370 | 141 |
| Candy, Mars bar | 480 | 384 | Egg whites | 147 | 137 |
| Candy, Marshmallows | 317 | 67 | Egg yolks | 147 | 168 |
| Candy, Milky Way | 476 | 381 | Egg, boiled | 147 | 118 |
| Candy, Mint sweets | 400 | 320 | Eggplant | 25 | 20 |
| Candy, Nutri-Grain Bars | 374 | 299 | Endive (escarole) | 20 | 8 |
| Candy, Power Bars | 353 | 282 | Evaporated milk | 155 | 144 |
| Candy, Snickers | 480 | 384 | Farina | 50 | 38 |
| Canned Smoked Oysters in Oil | 194 | 155 | Fat Free pretzels | 353 | 212 |
| Canola or Olive Oil | 847 | 847 | Fennel | 28 | 17 |
| Cantaloupe | 30 | 33 | Fig, dried | 274 | 192 |
| Carrots, raw | 46 | 32 | Fig, fresh | 80 | 72 |
| Cashew nut | 561 | 264 | Fish cake | 200 | 160 |
| Cashews (shelled) | 600 | 282 | Fish fingers | 220 | 176 |
| Cashews, oil roasted | 750 | 353 | Flour tortillas | 314 | 188 |
| Cauliflower | 27 | 12 | Flour, buckwheat | 366 | 264 |
| Celeriac | 40 | 39 | Flour, cake | 366 | 139 |
| Celery | 17 | 8 | Flour, potato | 366 | 264 |
| Cereal - Grape Nuts | 353 | 180 | Flour, rice | 366 | 234 |
| Cereal, Corn Chex | 363 | 109 | Flour, rye | 366 | 139 |
| Cereal, Corn Flakes | 353 | 106 | Flour, semolina | 366 | 271 |
| Cereal, Rice Krispies | 350 | 70 | Flour, U.K. self-raising | 366 | 172 |
| Cereal, Trix | 406 | 122 | Flour, U.S. all-purpose | 366 | 154 |
| Chapatis | 300 | 240 | Flour, wheat bread | 366 | 154 |
| Cheerios | 363 | 109 | Flour, white sifted | 366 | 194 |
| Cheese - grated canned parmesan | 388 | 272 | Flour, whole wheat | 366 | 201 |
| Cheese & peanut butter crackers | 494 | 346 | Fortune Cookies | 363 | 218 |
| Cheeseburgers | 269 | 188 | Fries just baked mc cain | 178 | 151 |
| Cheese Whiz | 293 | 205 | Fritos Corn Chips | 564 | 339 |
| Cheese, Blue | 388 | 194 | Fruit roll-ups (store bought) | 353 | 282 |
| Cheese, Brie | 317 | 254 | Fudge brownies | 437 | 350 |
| Cheese, Cheddar sharp | 388 | 272 | Gammon | 280 | 224 |
| Cheese, cheddar, grated | 388 | 198 | Garlic | 137 | 110 |
| Cheese, colby, grated | 388 | 182 | Garlic, minced | 137 | 88 |
| Cheese, cottage | 320 | 310 | Gelatine | 355 | 330 |
| Cheese, cream | 353 | 317 | Ginger, crystal | 250 | 150 |
| Cheese, grated parmesan | 370 | 281 | Ginger, fresh | 80 | 78 |
| Chestnut, dried | 377 | 226 | Gooseberry | 39 | 31 |
| Chestnut, fresh | 194 | 116 | Grapefruit | 41 | 33 |
| Chicken | 200 | 160 | Grapes | 69 | 66 |
Alphabetical List of Calorie Densities - Part B
| Food | Cal/100g | Cal/100ml | Food | Cal/100g | Cal/100g |
| --- | --- | --- | --- | --- | --- |
| Green snap bean | 32 | 26 | Oatmeal, uncooked | 350 | 119 |
| Guava | 62 | 50 | Oats, Quick Cook | 353 | 120 |
| Gumdrops | 420 | 286 | Oats, rolled | 320 | 109 |
| Gummi bears | 400 | 256 | Oil, vegetable | 900 | 801 |
| Haddock fresh | 110 | 88 | Oils -corn, sunflower, olive | 900 | 801 |
| Halibut fresh | 125 | 100 | Okra | 36 | 22 |
| Ham | 240 | 192 | Olive oil | 900 | 729 |
| Ham - cooked | 176 | 141 | Olive, green pickled | 116 | 88 |
| Hard Candy | 388 | 349 | Olives | 219 | 166 |
| Hazelnuts, whole | 650 | 468 | Olives, chopped | 116 | 88 |
| Herring fresh grilled | 200 | 160 | Onion, chopped | 45 | 29 |
| Hershey's Kisses | 533 | 692 | Onion, green | 36 | 23 |
| Hershey's Milk Chocolate | 536 | 697 | Onion, minced | 45 | 38 |
| Honey | 282 | 406 | Onion, sliced | 45 | 25 |
| Honeydew melon | 33 | 30 | Onions - French fried | 635 | 349 |
| Horseradish, raw | 87 | 70 | Oranges - fresh | 32 | 29 |
| Hot Cocoa mix | 406 | 284 | Papaya | 39 | 31 |
| Hummus (prepared) | 166 | 149 | Parsley | 44 | 7 |
| Iceberg lettuce | 13 | 3 | Parsnip | 76 | 53 |
| Jam | 250 | 238 | Pasta ( normal boiled ) | 110 | 44 |
| Jam, Grape Jelly | 222 | 211 | Pasta (wholemeal boiled ) | 105 | 42 |
| Jams and jellies | 282 | 268 | Pasta Roni | 353 | 141 |
| Japanese persimmon | 77 | 69 | Pasta, egg noodles | 350 | 133 |
| Japanese Plum | 48 | 43 | Pasta, macaroni | 350 | 172 |
| Jello Instant Chocolate Pudding | 353 | 212 | Pea, dried | 340 | 238 |
| Jelly Beans | 370 | 296 | Pea, edible podded | 53 | 42 |
| Jerusalem artichoke | 75 | 73 | Pea, fresh green | 84 | 67 |
| Kale leaves | 53 | 37 | Peach , dried | 268 | 161 |
| Kale leaves & stems | 38 | 23 | Peach, fresh | 38 | 30 |
| Kellogg's cereal | 290 | 58 | Peanut Butter | 586 | 445 |
| KFC drumsticks | 291 | 233 | Peanut, no skin | 568 | 386 |
| KFC medium fries | 294 | 250 | Peanut, with skin | 564 | 384 |
| KFC Potato Wedges | 207 | 176 | Peanuts - dry roasted | 564 | 384 |
| KFC regular fries | 265 | 226 | Peanuts, chopped | 564 | 384 |
| KFC Tenders | 249 | 199 | Peanuts, oil roasted | 700 | 448 |
| KFC twister | 273 | 218 | Pecan Nuts, dry roasted | 714 | 457 |
| Kidney | 160 | 128 | Pecan Nuts, raw | 690 | 483 |
| Kipper | 120 | 96 | Pepper, Sweet red | 31 | 22 |
| Kohlrabi | 29 | 13 | Pepperoni | 829 | 663 |
| Kumquat | 65 | 59 | Persimmon, native | 127 | 102 |
| Lamb (roast) | 300 | 240 | Pheasant roast | 250 | 200 |
| Lard | 890 | 1068 | Pilchards (tinned) | 140 | 112 |
| Leek | 52 | 36 | Pine nuts | 673 | 357 |
| Lemon | 27 | 32 | Pineapple | 52 | 47 |
| Lentil, dried | 340 | 289 | Pinto bean, dried | 349 | 244 |
| Lettuce, Cos, Looseleaf | 18 | 5 | Pistachio nut | 594 | 416 |
| Lettuce: Boston, Bibb | 14 | 4 | Pita bread (white) | 261 | 65 |
| Lima bean, dried | 345 | 276 | Pizza Margherita | 195 | 78 |
| Lima bean, fresh | 123 | 111 | Plum, prune type | 75 | 60 |
| Lime | 28 | 25 | Pop Tarts (All Other Flavors) | 381 | 152 |
| Liver | 150 | 120 | Pop Tarts (Frosted Brown Sugar, etc.) | 413 | 165 |
| Liver pate | 300 | 240 | Popcorn - Jiffy-Pop | 476 | 190 |
| Lobster boiled | 100 | 80 | Popcorn average | 460 | 184 |
| Low fat spread | 400 | 320 | Poppy seeds | 500 | 285 |
| Luncheon meat | 400 | 320 | Pork | 290 | 232 |
| Lychee, fresh | 64 | 58 | Pork pie | 450 | 360 |
| Macadamia nut | 691 | 484 | Pork rinds - fried | 617 | 556 |
| Macaroni (boiled) | 95 | 48 | Porridge oats (with water) | 55 | 44 |
| Macaroni and cheese | 100 | 60 | Potato chips - Lays | 529 | 185 |
| Macaroni, uncooked | 380 | 186 | Potato, raw with skin | 76 | 65 |
| Mackeral | 300 | 240 | Potatoes, boiled | 87 | 74 |
| Mango | 66 | 59 | Potatoes, cooked diced | 87 | 74 |
| Maple syrup | 260 | 355 | Potatoes, french fries | 320 | 272 |
| Margarine | 740 | 688 | Potatoes, mashed | 82 | 73 |
| Mayonnaise | 705 | 656 | Potatoes, roasted | 100 | 85 |
| McDonald Fries | 298 | 238 | Prawns, cooked | 100 | 80 |
| McDonalds Big Mac | 98 | 79 | Pringles | 600 | 210 |
| McDonald's Chicken Salad | 71 | 57 | Protein Powder | 353 | 212 |
| McDonalds Hamburger | 235 | 165 | Prune, dried | 255 | 204 |
| McDonald's MacBacon | 309 | 247 | Pumpkin | 26 | 20 |
| McDonald's McChicken | 235 | 188 | Pumpkin seed | 553 | 387 |
| McDonald's Pancake | 222 | 133 | Pumpkin, cooked | 150 | 114 |
| McDonalds Quarter Pounder | 250 | 175 | Quaker Oats | 274 | 93 |
| McDonald's Salmon salad | 41 | 33 | Quick Grits | 346 | 118 |
| McDonald's: salad (small) | 40 | 28 | Quince | 57 | 46 |
| Melon | 27 | 30 | Rabbit | 180 | 144 |
| Milk, dry powdered | 346 | 100 | Radish | 17 | 10 |
| Milk, sweetened condensed | 330 | 428 | Raisins | 325 | 208 |
| Mixed nuts | 650 | 442 | Red cabbage | 31 | 25 |
| Molasses | 290 | 429 | Red raspberry | 57 | 63 |
| Muesli | 390 | 156 | Rhubarb | 16 | 13 |
| Muffins, English | 215 | 65 | Rice Brown (cooked) | 135 | 106 |
| Mung bean sprouts | 35 | 21 | Rice White rice, cooked | 140 | 104 |
| Mung bean, dried | 340 | 204 | Rice White rice, uncooked | 250 | 223 |
| Mushroom | 28 | 6 | Rice, A Roni (uncooked) | 335 | 235 |
| Mushrooms, Chinese black | 28 | 6 | Rice, Brown (uncooked) | 360 | 266 |
| Mushrooms, chopped | 28 | 9 | Rice, Instant rice (uncooked) | 360 | 266 |
| Mushrooms, sliced | 28 | 8 | Rice, steamed | 140 | 95 |
| Mushrooms, whole | 28 | 7 | Rice, White uncooked | 363 | 247 |
| Mussels | 90 | 72 | Rice, Wild uncooked | 353 | 282 |
| Mustard greens | 31 | 16 | Ruffles potato chips | 564 | 198 |
| Mustard seed | 65 | 42 | Rye grain | 334 | 267 |
| Mustard, prepared | 65 | 69 | Ryvita Multi grain | 331 | 99 |
| Nectarine | 64 | 58 | Salmon fresh | 180 | 144 |
| Noodles & Sauce | 409 | 286 | Saltine crackers | 423 | 127 |
| Noodles (boiled) | 70 | 49 | Sandwich | 226 | 113 |
Alphabetical List of Calorie Densities - Part C
| Food | Cal/100g | Cal/100ml | Food | Cal/100g | Cal/100ml |
| --- | --- | --- | --- | --- | --- |
| Sandwich Greek (kebabs) | 299 | 149 | Sweet green pepper | 22 | 18 |
| Sapote | 125 | 100 | Sweet potato, raw | 114 | 87 |
| Sardines in tomato sauce | 180 | 144 | Sweet potatoes, cooked | 130 | 117 |
| Sardines tinned in oil | 220 | 176 | Tangerine | 46 | 41 |
| Sausage pork fried | 320 | 256 | Tofu | 63 | 51 |
| Sausage pork grilled | 280 | 224 | Tomato, chopped | 23 | 16 |
| Sausage roll | 480 | 336 | Tomato, green | 24 | 16 |
| Savoy cabbage | 24 | 7 | Tomato, ripe red | 22 | 15 |
| Scallions (green onions) | 32 | 7 | Trout fresh | 120 | 96 |
| Scampi fried in oil | 340 | 272 | Tuna (in oil) | 183 | 156 |
| Sesame seeds | 570 | 388 | Tuna (in spring water) | 106 | 90 |
| Shallot | 72 | 73 | Tuna tinned oil | 180 | 144 |
| Shrimp, cooked | 100 | 80 | Tuna tinned water | 100 | 80 |
| Sour cream | 200 | 102 | Tuna, canned | 187 | 159 |
| Soybean, dried | 460 | 368 | Turkey | 160 | 128 |
| Soybean, fresh | 134 | 121 | Turkey roast | 140 | 112 |
| Spaghetti boiled | 101 | 81 | Turnip | 30 | 21 |
| Spaghetti, uncooked | 370 | 189 | Turnip greens | 28 | 17 |
| Spam | 300 | 240 | Veal | 240 | 192 |
| Spinach, cooked | 26 | 20 | Vegetable oils | 884 | 1326 |
| Spinach, raw | 26 | 18 | Walnuts, chopped | 618 | 303 |
| Split peas, Cooked | 150 | 128 | Walnuts, ground | 618 | 222 |
| Split peas, Raw | 336 | 286 | Walnuts, shelled | 618 | 315 |
| Steak & kidney pie | 350 | 280 | Water | 0.001 | 0.001 |
| Strawberries - fresh | 32 | 19 | Watercress | 19 | 6 |
| Sugar, Brown | 370 | 315 | Watermelon | 26 | 26 |
| Sugar, caster | 389 | 181 | Wheat bran | 213 | 64 |
| sugar, castor | 400 | 324 | Wheat Chex | 356 | 71 |
| Sugar, white table sugar | 366 | 311 | Wheat germ | 363 | 109 |
| Sultanas | 296 | 189 | Wheat Thins | 494 | 148 |
| Summer sausage | 335 | 285 | Wheat, hard grain | 330 | 257 |
| Summer squash | 19 | 10 | Winter squash | 50 | 25 |
| Sunflower seeds | 600 | 510 | Yellow snap bean | 27 | 16 |
| Sweet corn | 96 | 67 | Yogurt | 66 | 69 |