Dukan Diet Recipes Collection, Reviews and Menu Ideas
The Dukan diet really works in the initial phases. Many people losing weight quickly. But like many diets the proof is in the pudding, in this case whether the weight stays off in the longer term. There have been few clinical studies of this relatively new diet, but a French magazine (Journal des Femmes Santé) conducted a survey of about 5000 people who had used the program to examine long term outcomes. The survey found that most readers reported rapid weight loss in the early phases of the diet, but poor results in the longer term.
After 24 months, about 75 % of people had returned to their original weight before starting the diet. This failure rate increased to 80 % after four years. Most attributed the failure to problems with the Stabilization Phase of the diet ( long term maintenance).
This is very similar to the failure rate for other diets and weight loss programs. Research studies have shown 95% of those who lose weight eventually gain it back within three years. In 2002, surveys showed that 231 million people across Europe tried or went on a diet. Of these, only about 4 million (2%) succeeded in keeping off the weight off for more than 12 months. This article reviews the Dukan diet and provides some recipes which may help those using the Dukan diet.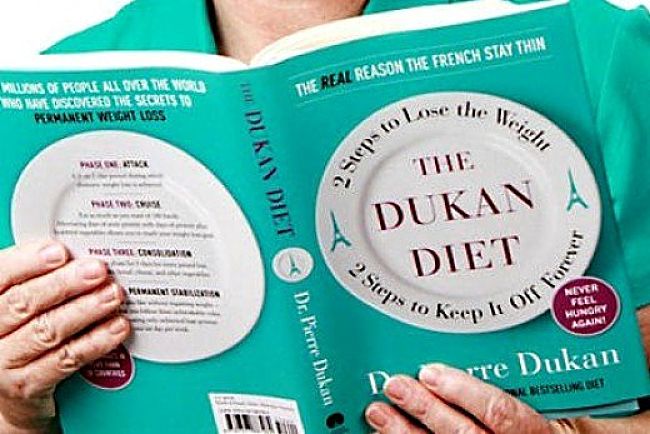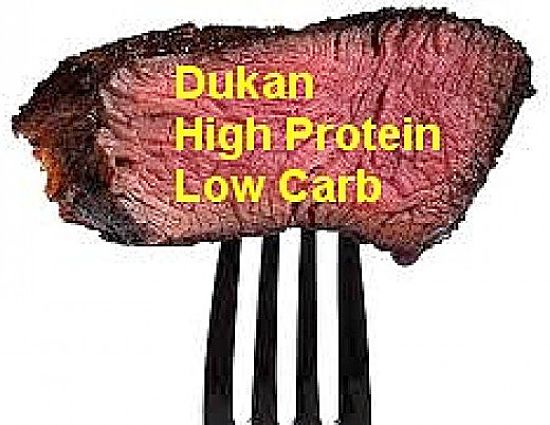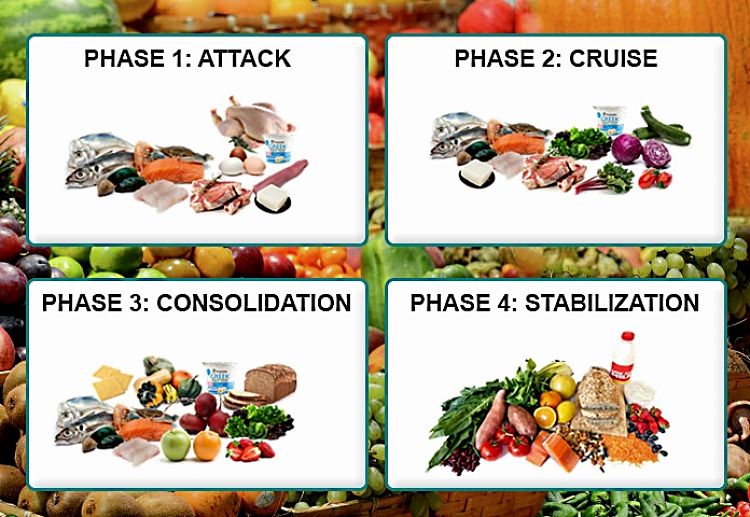 In simple terms the Dukan Diet has four phases.
The first is the Attack Phase - where you effectively only consume animal protein for up to 10 days, and fruit and vegetables are banned.
You can consume unlimited amounts of low fat beef, lean ham, poultry, organ meats, fish and virtually all seafoods, and non-fat dairy products with the exception of cheese. During all stages you are required to drink a minimum of 6 cups of water and to consume one and a half tablespoons of oat bran every day as a hunger suppressant.
You are also required to walk for at least 20-minutes every day. This stage lasts for 1-10 days, according to your weight loss objective. According to Dukan, the average Attack Phase length is five days and most people lose 4-7 pounds (2-4 kg).
The Second stage is the Cruise Phase - which has a high-protein diet, but with vegetables permitted every second day. The diet bans all starchy vegetables like corn, maize, potatoes, beans, peas, lentils and other similar vegetables.
The allowed vegetables include eggplant, salad vegetables, Brussels sprouts and spinach.
You can consume meals that combine protein and vegetables on one day, and then protein-only meals on the next day, and so forth. Dieters in the Cruise Phase are required to drink a minimum of 6 glasses of water per day and walk for 30 minutes.
This stage lasts until the dieter reaches his or her desired weight. This is the major weight loss period for the Dukan Diet.
As shown below the recommended calories on typical menus are only about 50% of daily allowance (about 1000 calories compared with recommended level of 1940 calories for women and 2550 calories for men).
The third stage is the Consolidation Phase - Some carbohydrates and fruit is added to the diet. This stage has a lot more variety in the meals with one piece of fruit allowed every day (but excluding grapes, bananas, cherries, and all dried and preserved fruits).
Two pieces of whole grain bread are also allowed, and 1 1/2 of cheese per day. Also two servings of starchy foods such as potatoes and pasta are allowed each week.
You can also enjoy 2 celebration meals a each week, where you can consume anything you desire, as long as you ensure that the meals on one day a week are protein-only meals. In this phase you are required to drink a minimum of 6 glasses of water per day and walk for 25 minutes.
This stage is designed to stop any weight gain and to adjust your eating habits and food choice patterns.The length of time a dieter is on this stage depends on how much weight was lost during the first two phases.
Allow 5 days in this phase for every pound (0.5kg) that is lost. For example if a dieter lost 24 pounds (12 kg), this stage would continue for four months.
The Final stage is the Stabilisation Phase - This is the long-term period of weight maintenance that applies for many years.
During Stabilization you to eat whatever you want for six days, provided the seventh day is a protein-only day.
The oat bran intake is increased to 3 tablespoons a day and the walk is reduced to 20 minutes a day. Drinking 6 glasses of water is required.
This phase is designed to make sure you maintain the weight you've lost and requires monitoring your weight and eating restraint.
The Dukan Diet: Menus and Nutrition

In the tables below are meal items and nutrition summaries for typical menus during Dukan's first three phases.
Typical Menus for First Three Dukan Phases
| | Attack Phase | Cruise Phase | Consolidation Phase |
| --- | --- | --- | --- |
| Breakfast | 8 oz. coffee with artificial sweetener of your choice; 8 oz. nonfat yogurt; 1 Dukan oat-bran galette (pancake) | 8 oz. coffee with artificial sweetener of your choice; 8 oz. nonfat yogurt; 1 oat-bran galette (pancake)* | 8 oz. coffee with artificial sweetener of your choice; 8 oz. nonfat yogurt; 1 oat-bran galette (pancake); 2 slices whole-grain bread with 2 tsp. light butter |
| Snack AM | 4 oz. nonfat cottage cheese | 4 oz. nonfat cottage cheese | 4 oz. nonfat cottage cheese; 1 apple |
| Lunch | Hard-boiled egg with herb mayonnaise; 5 oz. barbecue steak; 8 oz. nonfat yogurt | Lettuce salad with vinaigrette; Cauliflower gratin; Custard | Lettuce salad with vinaigrette; Cauliflower gratin; Custard |
| Snack PM | 4 oz. nonfat yogurt | 4 oz. nonfat yogurt | 4 oz. nonfat yogurt; 1/2 oz. cheddar cheese |
| Dinner | 1 lb. shrimp sauteed in herbs ; 8 oz. tandoori chicken cutlets ; Dukan custard | Cucumbers, served hot or cold; 8 oz. chicken Marengo; Vanilla creme | Cucumbers, served hot or cold; 8 oz. chicken Marengo; 8 oz. cooked quinoa; Vanilla creme |
| Calories | 1,722 | 1,200 | 1,873 |
Nutrients for Typical Dukan Daily Menu
| | Dukan Diet Attack Phase | Dukan Diet Cruise Phase | Dukan Diet Consolidation | Recommended for Women | Recommended for Men |
| --- | --- | --- | --- | --- | --- |
| Calorie Recommedations | | | | Age 21-25: 2,000 | Age 21-40: 2,400 |
| | | | | Age 26-50: 1,800 | Age 41-60: 2,200 |
| Calories | 1,722 | 1,200 | 1,873 | Age 51+: 1,600 | Age 61+: 2,000 |
| Calories burnt walking | 100 | 150 | 120 | | |
| Net Calories | 1,622 | 1,050 | 1,753 | 1940 | 2550 |
| Calories % of average | women 84%: men 64% | women 54%: men 41% | women 90%: men 70% | 100% | 100% |
| Total Fat | 23% | 18% | 19% | 20%-35% | 20%-35% |
| Saturated Fat | 8% | 5% | 6% | Less than 10% | Less than 10% |
| Total Carbohydrates | 27% | 38% | 48% | 45%-65% | 45%-65% |
| Protein Recommendations | | | | Age 19-30: 28 g | Age 19-30: 34 g |
| | | | | Age 31-50: 25 g | Age 31-50: 31 g |
| | | | | Age 51+: 22 g | Age 51+: 28 g |
| Total Protein | 46% | 41% | 33% | 10%-35% | 10%-35% |
| Sodium | 3,945 mg | 1,672 mg | 2,351 mg | Less than 2,300 mg: Less than 1,500 mg: Age 51+ | Less than 2,300 mg: Less than 1,500 mg: Age 51+ |
| Potassium | 3,297 mg | 2,544 mg | 2,969 mg | At least 4,700 mg | At least 4,700 mg |
| Calcium | 1,497 mg | 1,307 mg | 1,647 mg | Age 19-50: 1,000 mg | Age 19-50: 1,000 mg |
Some of the Nutrition Concerns for the Dukan Diet are:

Calories - Although the Dukan diet is not a calorie counting or reduction diet it only works by reducing the overall calorie intake and promoting walking for 20-30 minutes a day to burn some extra calories. The same applies to the Aitkins diet. If you eliminate carbs from meals this will reduce calories and lead to weight loss. The nutrients table shows that typical menus for the three phases have substantially reduced calories. For the Cruise Phase, the net calories are 41% for men and 54% for women of the recommended daily calorie intake. For the Attack Phase the calories in the meals represent 65% for men and 84% for women of the recommended intake.
Switching to Stabilisation Phrase for maintenance when there are no portion or calorie restrictions has obviously risks for putting the weight back on. This is where most of the longterm failures occur. The dieting effectively ends.

Low Carbs - The Attack and Cruise Phase menus show carbohydrate reductions of 50% compared with the recommended diets.

High Protein - The Attack and Cruise Phase menus show protein levels are about double the recommended levels.

Fat - The menus for the three Phases show fat levels towards the bottom of the recommended range.

Dietary Fiber - The first two phases have very low levels of fiber, due to the low fruit and vegetable levels, which can cause constipation and other problems.

Nutrient Deficiencies - These are likely in the first phases when dieters consuming low quantities of fruit, vegetables and complex carbohydrates from whole foods.

Ketosis - Adhering to the protein-rich, carbohydrate-low diet in the first two stages for a long period of time could cause ketosis that could be causal to weariness, foul breath may damage the liver and kidneys.

Failure of the Maintenance Program

The report in the French women's magazine highlighted that about 70% people who failed on the diet had trouble with the maintenance phase. Most people didn't blame the diet itself but their own ability to stick with it. During maintenance the diet requires quite normal food for six days a week but exclusively protein on the seventh day. This is what most people find is where they fail, as the protein-only day is easily by-passed by an active social life, dining out with friends and unexpected changes to schedules. Not controlling portion sizes and total calories consumed can obviously bring you undone. The diet has an 'all you can eat' approach that is unrealistic as a strategy for losing and keeping the excess weight off.

Many nutrition expert say that the Maintenance Phase is fundamentally flawed as with no portion or calorie restrictions. Just the single day of pure protein seems unlikely to keep the weight off for long term, especially with no control on the other days.
Allowing people to eat whatever they want for 6 days is essentially an invitation for them to revert to their original poor eating habits. Putting the weight back on at the end of the diet is probably more likely to the removal of the restrictions and menu plans during maintenance rather than failing to keep to the one protein-only day a week. The walking recommended may help but only marginally. The dieting stops and people put on weight.

Many people also criticised the Atkins Diet for lack on an effective maintenance program. While the dieters are required to calculate their Atkins Carbohydrate Equilibrium, which is the total amount of carbohydrate you can eat each day, without either losing nor gaining weight. The lack of portion or calorie control for food eaten during the maintenance period mean that many people gain weight.
For both of these programs, people diet until they lose weight and then they go off their diet and put all the weight back on again.
Successful weight loss programs that keep the weight off are not diets at all, but changes in lifetime eating patterns, habits and lifestyles. What you do at the start is what you do at the end.
Effective weight loss requires fundamental and longterm changes in eating patterns and lifestyles. These are lifetime changes not short-term diets.
Best Recipes Collection for Dukan Diet
Steak with Pepper Sauce Dukan Recipe
Ingredients
1 cup beef stock
1 teaspoon of sweetener
2 cloves of garlic crushed
3 button mushrooms sliced thin
1 teaspoon of coarse ground black pepper
125 g (8 oz) of Philadelphia extra light cream cheese
Method
Heat a non-stick fry pan over moderate to high heat. Fry the steaks for about 3 minutes on each side. Remove the steaks from the pan and keep warm by wrapping in foil. Cook the mushrooms by boiling in a small amount of water till soft Add the pepper and garlic, and sauté for 1 minute. Add the beef stock and simmer until reduced by a about a third. Whisk in the cheese, sweetener and simmer until thickened. Poor the sauce over your steak, and serve immediately.
Herb Omelete - Dukan Style
Ingredients
mixed Italian herbs,
salt and pepper to taste
2 tablespoons of skim milk
4 eggs, keep 1 yolk and use the 3 egg whites
Method
Mix all ingredients in a bowl and whisk until well mixed and frothy. Pour into a lightly oiled hot pan Reduce heat, flip once when the omelete is firm.
Stuffed Chicken Breast, Dukan Recipe
Ingredients
salt
mixed herbs
2 bacon pieces
1 large chicken breast
1 teaspoon garlic powder
1 tablespoon Philadelphia cream cheese
Method
Preheat your oven to 200 degrees C (400 degrees F). Cook the bacon in a small heavy pan until crisp and then remove and slice into small pieces Mix together the salt, herbs, cream cheese, bacon and garlic in a small bowl. Slice the chicken breasts lengthwise to create a "pocket". Spoon the stuffing mixture into the cavity. Close the pocket and secure with a toothpick. Sear the chicken breast in a hot pan until well-browned on both sides Next, wrap your chicken in foil and bake in the pre-heated oven for about 20 minutes, or until the chicken is cooked through. Serve immediately with herbs and your choice of Dukan sauces.
Moroccan Style Chicken, Dukan Recipe
Suitable for: Attack Diet & Pure Protein Phases
Ingredients
1 teaspoon of cumin
1/2 brown onion diced
1/2 teaspoon turmeric
1/2 cup chicken stock
1 chicken breast diced
2 slices of lean bacon diced
1/2 teaspoon of chilli powder
1 teaspoon of ground coriander
2 tablespoons of extra light cream cheese
Method
Brown the chicken in a lightly oiled pot over high heat. Then, reduce the heat, add the bacon and onion and fry for 1-2 minutes. Add all herbs, chicken stock and cream cheese, mixing well. Lower the heat, cover the pan and simmer gently for 20 minutes. Serve with cracked pepper and fresh herbs.
Simple Low Fat Tuna Salad Dukan Recipe
Ingredients
Salt & pepper
2 cans Tuna in water
2 tablespoons grated onion
1/2 cup fat free sour cream
1/4 cup sugar-free sweet relish
1/2 cup fat free cottage cheese
Method
Drain the tuna & flake into bowl. Add the drained relish, and drained a squeezed cottage cheese. Add onion, sour cream, salt and pepper to the bowl, mixing well. Serve with a suitable Dukan dressing
Lime Shrimp Dukan Recipe
Ingredients
2 dashes salt
Cooking spray
1/2 lime, juiced
3/4 teaspoon black pepper
2 tablespoons onion, chopped
28 large shrimp - ready to cook
Method
Spray some cooking spray onto a heavy skillet. Heat on medium heat until hot. Add all ingredients and cook till shrimp and onions are done.
Serve immediately
Dukan Lemon Ricotta Galette Recipe
Oat bran is a key element in the Dukan diet. This light and easy pancake is a tasty way to eat your oat bran.
Ingredients
2 egg whites
Zest of 1 small lemon
4 tablespoons oat bran
2 tablespoons fat-free ricotta
2 tablespoons fat-free plain Greek yogurt
1 teaspoon zero-calorie sweetener, such as Stevia
Method
Beat the egg white in a small bowl until foamy. Combine the oat bran, Greek yogurt, ricotta, lemon zest, and sweetener in another bowl and combine well. Add the beaten egg white to this mixture and combine well. Heat a small heavy nonstick pan over moderate heat. Pour the pancake mixture into the pan and cook for about 5 minutes, until the underside is golden brown and the upper side starts to dry and bubble. Turn the galette over very carefully with a spatula and cook the other side for about 5 minutes. Remove to a plate and allow to cool briefly before serving with yogurt and herbs.
Individual Egg and Ham Pies (Dukan Recipe)
Ingredients
sea salt
freshly ground black pepper
2 tablespoon sour cream reduced fat
12 large eggs, preferably free-range
4 tablespoons freshly grated Parmesan cheese
12 thin slices good quality extra lean 5% fat ham
3 teaspoon olive oil or butter, for lining the muffin tray
Method
Pre-heat your oven to 180 degrees C (350 degrees F). Lightly oil or butter a 12-cavity muffin tray. Line the base and sides of each mould with a slice of ham. Break an egg into the hollow. Drizzle with the cream and sprinkle with sea salt, pepper and Parmesan cheese. Bake for 15 to 20 minutes until the egg is just set and has started to shrink away from the sides of the tin. Set aside to cool for about 5 minutes, then run a knife around each mould to loosen the ham and egg pies and transfer to a wire tray. Serve warm with herbs and a fresh salad.
Shrimps Sauteed in Herbs Dukan Recipe
Ingredients
1 lemon, cut in half
4 garlic cloves, crushed
50 ml (2 fl oz) dry white wine
30 g (1 oz) fresh parsley, chopped.
900 g (2 lb) shrimps, peeled, de-veined and rinsed
Method
Add the shrimps, garlic, parsley and wine to a hot pan. Sauté over moderate heat until the shrimps are pink. Serve with fresh lemon and herbs.