Calories Lebanese Food - Healthy Choices at Restaurants, Homemade
Lebanese cuisine is served generously, and abundantly according to tradition. There are a fabulous variety of dishes available starting with small portions called 'mezza' which is a combination of bread, salads and dips.
Most meals based mostly on lamb, are served with bread and many side dishes. All this variety of delicious choices, bread, dips and side dishes can add up to a huge number of calories.
Many of the lovely lamb dishes are rich and tasty, but can be high in fat. All this means that if you are on a calorie controlled diet it pays to have the information to make healthy choices at restaurants. The same applies to Lebanese food you cook at home. You need to know how to make healthy choices from the huge number of recipes available.

This article provides a listing of the calories and nutrients in the common Lebanese dishes and provides helpful hints of which foods to avoid and which dishes you can use as substitutes.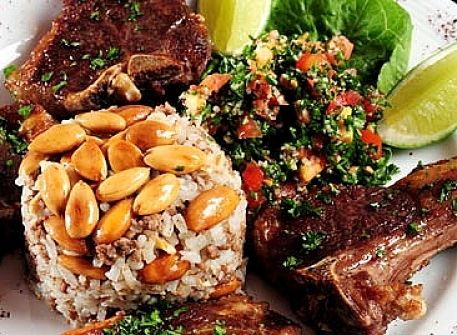 Healthy Lebanese and Middle Eastern Food Choices
Many Lebanese restaurants serve Moroccan and other regional dishes as well. Lamb is the favorite meat: served stewed, roasted, pressed, ground or skewered.
Unfortunately most dishes have high fat and calories and so should be avoided or eaten in small portions (entre size). Seafood is better choice.
Tahini, a paste made from ground sesame seeds, is a tasty ingredient in favorites such as baba ghanoush, hummus and halvah (a rich sweet ingredient). Tahini is rich in calories.
Bulgur is a staple grain that is added to tabbouleh salad. But this adds calories. Chickpeas, rice and lentils are widely used and although these ingredients are generally healthy the calories accumulate in large portions sizes especially when eaten with bread and dips made with yogurt.
Choose dishes that are rich in vegetables such as garlic, onions, eggplant (can be oily), okra, lemon, carrots, cauliflower, green beans.

Most Lebanese meals include the following:

Tabbouleh: A salad made of bulgur, tossed with mint, tomatoes and parsley. The bulgur grain adds to the calories

Kibbe: Bulgur and ground lamb combined into patties and cooked. Once again this dish is high in fat and calories and should be eaten in moderation

Fattoush: A refreshing salad of toasted bread cubes, cucumbers, tomatoes and mint. The bread adds to the calories in this dish.

Hummus: Pureed chickpeas with lemon juice, tahini and garlic. Very rich and needs to be eaten in moderation.

Baba ghanoush: Charcoal-grilled eggplant combined with olive oil, tahini, crushed garlic and lemon juice. It is served as appetizer with pita bread for dipping or as a side dish. It is very rich and should only be eaten in small quantities.

Pita: A round, flat bread torn into pieces and served with dips. Be careful not to eat too much bread.
Healthy Choices for Lebanese Appetizers
Lentil soup is rich in fiber and lower in calories and fat than most other options
(Nutrition: 190 Cals; Fat: 3 g; Carbs: 30 g; Protein: 12 g ).

Yogurt salad, flavored with parsley, mint, and dill, blended with shredded cucumber and other salad vegetables is a healthy choice. (Nutrition: 80 Cals; Fat: 1.8 g; Carbs: 9 g; Protein: 6 g).

Salads made from tomato, pepper, eggplant and cucumber in olive oil and lemon juice are a good choice. (Nutrition: 265 Cals; Fat: 15 g; Carbs: 40 g; Protein: 6 g). Avoid dishes with a lot of olive oil.

Hummus can be a healthy choice in small quantities. It tends to be very rich because of the olive oil and tahini (sesame paste) - both high in fat and calories. (Nutrition for about 1/2 cup: 100 Cals; Fat: 1 g; Carbs: 20 g; Protein: 5 g).

Pita bread is eaten as with dips and as a side dish. It can add up to a lot of calories for the entire meal (Nutrition one half: 170 Cals; Fat: 1 g; Carbs: 35 g; Protein: 6 g)
Healthy Choices for Lebanese Main Meals
Try to substitute the lamb based entrees with vegetarian or those made with fish, seafood or chicken.

Dishes with a bean or lentil base are generally rich in fiber.
For example, lentil-rice dishes are a good choice with a small portion size (Nutrition: 440 Cals; Fat: 20 g; Carbs: 45g; Protein: 10 g).
Fava beans in a garlic-lemon sauce (Nutrition: 335 Cals; Fat: 2 g; Carbs: 60 g; Protein: 25 g).

Grilled fish is a good, healthy choice.

Vegetarian moussaka is another good choice with an eggplant base, if available (Turkish restaurants). (Nutrition: 300 Cals; Fat: 15 g; Carbs: 40 g; Protein: 10 g).

Vegetable tagine (more of a Moroccan dish) is a good option if available. (Nutrition: 250 Cals; Fat: 10 g; Carbs: 35 g; Protein: 10 g).

Shish taouk (chicken on skewers) is a lean, lower fat alternative to the beef and lamb versions (shish kebab). (Nutrition: 475 Cals; Fat: 30 g; Carbs: 30 g; Protein: 30 g.)

Chicken shawerma is marinated chicken combined with rice, hummus, grilled tomatoes or peppers (Nutrition: 475 Cals; Fat: 13 g; Carbs: 50 g; Protein: 40 g).
Healthy Choices for Lebanese Desserts
In reality there virtually no healthy choices for desserts in Middle Eastern restaurants, unless fresh fruit is offered (very rarely).
Most desserts are packed with cream (custards and rice pudding); butter and oil (pastries such as baklava).
Figs and dates are often served with very rich sauces. Avoid dessert if you can.
Choosing Healthier Alternatives on the Menu
The table below list a series of healthy substitutes for common Lebanese dishes.
Healthy Substitutes for Lebanese Food
| Choose | Instead of |
| --- | --- |
| Labnee (thick yogurt dish with mint) | Hummus (chickpea based dip) |
| Oubieh (green beans generally combined with tomatoes) | Tabbouleh (salad with bulgur that adds calories) |
| Eggplant with tomatoes, garlic and peppers | Fattoush (cucumber and tomato salad with bread pieces) |
| Shish kebab (grilled, spiced cubed chicken (preferred)or lean lamb on skewers) | Kibbe (bulgur and ground lamb patties) |
| Kofta (balls of onins and ground lamb, skewered and grilled) | Falafel (chickpea based patties) |
| Shish taouk (skewered chicken pieces grilled over charcoal) | B'steeya (Moroccan pie dish made with chicken and almonds) |
Nutrition Facts for Lebanese Food and Common Dishes
The following table lists common Lebanese and Middle Eastern foods listed from low calories to highest calories. The table can be sorted alphabetically to hep find the dish you want. Serving sizes vary and this needs to be taken into account when choosing healthy options.
Calories and Nutrients in Lebanese and Middle Eastern Dishes
| Meal | Serving | Cal | Total Fat (g) | Sat Fat (g) | Cholest (mg) | Sodium (mg) | Total Carbs (g) | Dietary Fiber (g) | Protein (g) |
| --- | --- | --- | --- | --- | --- | --- | --- | --- | --- |
| Hummus | 1 serve | 49 | | | | 33 | 7 | 2 | |
| Doogh | 1 glass | 85 | | | | | | | |
| Greek Salad | 1 serve | 87 | 7 | 3 | 13 | 282 | 4 | 1 | 3 |
| Middle Eastern-Style Chicken | 1 serve | 99 | | | 27 | 106 | | 1 | |
| Lubieh Bel Zeit | 1 cup | 100 | 2 | | | | | | 3 |
| Stuffed Grape Leaves | 1 serve | 100 | 6 | | | | | | 3 |
| Tabouli Salad | 1 serve | 108 | 8 | 1 | 0 | 36 | 10 | 4 | 3 |
| Shorbet Al-addas (Lentil soup) | 1 serve | 110 | 1.5 | 0 | 0 | 10 | 18 | 9 | 8 |
| Curry Chicken | 1 serve | 145 | | | 52 | 43 | 2 | | |
| Labneh with pita appetizer | 1 serve | 146 | 2 | 1 | 5 | 81 | 17 | 0 | 14 |
| Baba Ghannouj with Pita | 1 serve | 147 | 2 | 0 | 0 | 67 | 19 | 1 | 14 |
| Tinkka Kababs | 1 serve | 161 | | | | 81 | 14 | | |
| Minted Lamb Kebabs | 1 serve | 169 | | | 71 | 165 | 2 | | |
| Macedonian Tzatziki Salad with Pita | 1 serve | 170 | 3 | 1 | 7 | 92 | 22 | 1 | 16 |
| Hummus with Tahini and Pita Appetizer | 1 serve | 179 | 3 | 0 | 0 | 68 | 24 | 2 | 16 |
| Spinach and Feta Pie | 1 serve | 190 | 9 | 6 | 35 | 520 | 12 | 1 | 14 |
| Shrimp with Vegetable Sauté | 1 serve | 190 | 14 | 2 | 95 | 115 | 5 | 1 | 11 |
| Shorba Addas | 1 cup | 200 | 3 | | | | | | 7 |
| Fattoush | 2 cups | 236 | 2 | | | | | | 9 |
| Tabbouleh | 1 cup | 240 | 6 | | | | | | 6 |
| Chicken and Vegetable Curry | 1 serve | 250 | | | 51.7 | 203 | 29 | | |
| Foole M'daas | 1 cup | 250 | 3 | | | | | | 9 |
| Falafel Patties With Yogurt Cucumber Sauce | 1 serve | 255 | | | 1 | 586 | 28.6 | | |
| Vegetarian Kabob with Rice | 1 serve | 270 | 5 | 1 | 0 | 15 | 49 | 4 | 7 |
| Calamari with vegetable Sauté | 1 serve | 270 | 17 | 4 | 40 | 125 | 8 | 1 | 24 |
| Scallops with Vegetables Sauté | 1 serve | 350 | 15 | 2 | 75 | 370 | 13 | 1 | 39 |
| Shish Tawook 1/2 order - Chicken Kabob with Rice | 1 serve | 362 | 13 | 2 | 65 | 79 | 31 | 2 | 29 |
| Shish Kharouf (lamb) with Rice | 1 serve | 370 | 8 | 2.5 | 100 | 75 | 37 | 0 | 36 |
| 1/2 order Shish Kabob (beef) With Rice | 1 serve | 420 | 9 | 3.5 | 95 | 90 | 41 | 1 | 39 |
| Samak - Marinated 6 oz Salmon with Tabouli and Rice | 1 serve | 480 | 16 | 2.5 | 95 | 90 | 42 | 1 | 39 |
| Arayess - Falafel wrap with Salad and Lebanese Fries | 1 serve | 504 | 18 | 2 | 0 | 466 | 78 | 14 | 15 |
| Marinated 6 oz Tuna With Hummus & Lebanese Fries | 1 serve | 560 | 13 | 2 | 75 | 140 | 52 | 5 | 58 |
Related Articles
=> Thai Food Calories - How to Make Healthier Choices
=> At Last - Cause of Global Obesity Identified - We Passively Eat Too Many Calories
=> Korean Food Calories - Healthy Low Calorie Choices for Eating In or Out
=> Calories in White Wine and Nutrition Facts for White Wine Styles, Varieties
=> What Fruit is Healthiest For Calories, Fiber, Fat, Vitamins, Minerals
=> Avocado Nutrition Facts - Calories, Fat, Protein, Vitamins, Minerals
=> Calories in Red Wine, Nutrition Facts for Red Wine Varieties and Styles