Calories in Chinese Food
Chinese food is delicious and most people regard Chinese food as a healthy alternative to most other restaurant and take-away options. Most Chinese dishes are full of vegetables, are quickly cooked and many dishes are stir-fried rather than deep-fried. But you can easily be deceived and you need to learn how to avoid the menu choices that are laden with fat and calories. It partially depends on how the food is cooked in the restaurant, the ingredients used and the type of dish.
There are many low calorie choices if you know what to look for. On the other hand there are many high calorie choices you should avoid. I have reviewed the information and I provide a guide and tips for identifying the low calorie options. I also provide tables (below) which list various Chinese food dishes showing the number of calories, as well as fat and salt content.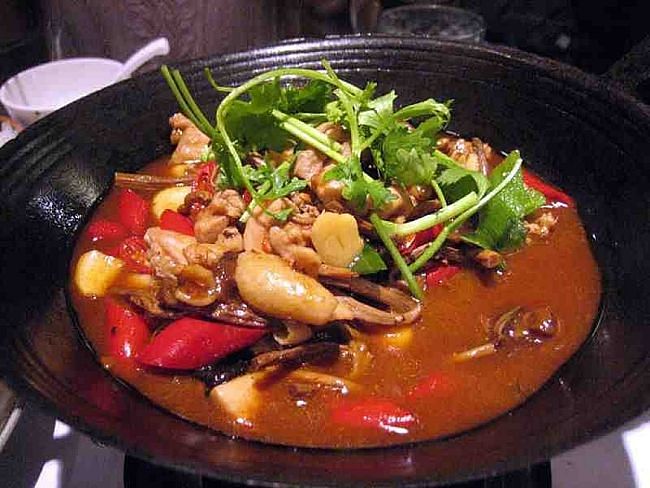 The wide array of vegetables in most Chinese meals would appear to be healthy, but most are fried in oil and it depends on how much is used. Some vegetables such as eggplants, beans, snow peas can really soak up the oil. Sometimes various oil-laden sauces are added to the dishes. Fried rice is a favourite can be a real shocker depending on its ingredients and how it is prepared. One large portion of fried rice may even contain more than 500 calories and when combined with deep fried dishes the total calorie count for the meal may be worse than for many fast food items such as burgers and fries! However there are many low fat and low calorie dishes available if you know what to look for.
Appetizers
Spring rolls have less calories than egg rolls because they have thinner wrappers ( that soak up fat) and are smaller. Spring rolls are mostly are filled with rice and vegetables. The average spring roll amounts to about 125 calories and about 5g of fat. Steamed appetizers, such as wontons are a much healthier choice.
Most Chinese soups have few calories. One serving of hot and sour, wonton, or egg drop soup has about 95 calories and about 3g of fat. However, the fried noodles that often come with these soups should be avoided and watch out for pork slices that can be very fatty.
Entrées
Sweet and sour chicken or pork are a poor choice. Deep fried dishes such as chicken or crispy beef, and deep fried seafoods should be avoided. Also beware of large portion sizes mean a low-calorie entrée becomes a calorie-laden feast. Try dishes such as shrimp with lobster sauce which only contains about 390 calories. A meal with a tiny offering of meat or seafood meat and stir-fried vegetables is a good. Beef with Broccoli and mixed vegetables only contains about 225 calories and 6g of fat. Broccoli chicken contains 175 calories and just 9g fat. Tofu-based entrées can be a real trap because they sound healthy but are usually deep fried. Make sure you ask for the tofu to be stir-fried, not deep fried. A tofu entrée with vegetables contains about 215 calories and 6g of fat.
Vegetables
Many restaurants offer vegetable side dishes that can be either steamed or stir-fried. Choose the steamed option, which provides, on average, 200 calories and 1.5g fat. The stir-fried option provides 370 calories and 7g fat.
General Advice
In general, Cantonese style Chinese food is lower in calories and consists of lightly cooked meat and vegetable dishes. Stir-fried dishes with fish, other seafood or chicken and lots of vegetables are usually the best choices calorie-wise.
Calories In Chinese Food (per serve)
Hot & Sour soup – 90 calories
Spring Rolls - 95 calories for each roll
Crispy chicken noodles – 590 calories
Stir fried vegetables – more than 490 calories
Chicken and black bean sauce – about 700 calories
Deep fried tofu with vegetables – about 750 calories
Sweet & sour pork – 1200 calories
Mixed fried rice – little over 950 calories
Fried prawns with garlic sauce – 800 calories
Every cup of fried noodles is equivalent to a (300-calorie) bag of potato fries.
Eggplant can really soaks up the oil, which boosts the calories and saturated fat.
Shrimp with Lobster Sauce is a good choice with only about 400 calories and 3g of fat.
Some High Calorie Dishes to Avoid
Lemon Chicken contains a whopping 1,400 calories which is equivalent to the worst fast food meal The batter on the chicken soaks up the fat when deep fried.
Crispy Orange Beef and deep fried Chilli Beef both have about 1,500 calories per serve.
Sweet and Sour Pork has 1,300 Calories due to the batter covering the pork and the added sugar
Combination (House) Fried Rice has a huge number of calories (1500) and is laden with fat. This is equivalent to about 70% of a day's calorie allowance in 4 to 5 cups of rice.
Combination (House) Chow Mein (with soft noodles) has 1,200 per serve.
Suggestions for Minimizing the Number of Calories in your Chinese Meal
Always start with a low calorie soup dish. Its only about 100 calories and will fill you up.
Always stick to steamed rice.
Stay away from deep fried and batter fried food items if you can.
Watch you portion size and avoid second helpings.
Some other Good and Bad Choices are shown below:
| Low Calorie Foods | High Calorie Foods |
| --- | --- |
| Hot and sour soup | Barbecued Pork |
| Wonton soup | Egg rolls |
| Steamed dumplings (vegetable, chicken or seafood) | Fried dumplings |
| Stir-fried or steamed chicken and vegetables | Fried wontons |
| Stir-fried or steamed beef and vegetables | Fried rice |
| Stir-fried or steamed seafood and vegetables | Egg fu yung |
| Stir-fried or steamed tofu and vegetables | Cold noodles with sesame sauce |
| Steamed whole fish | Moo-shu pork |
| Moo-shu vegetables (with pankcake roll-ups) | Sweet and sour pork |
| Steamed brown or white rice | Fried chicken and seafood dishes |
| Fortune cookies | Seafood with lobster sauce |
| Lychee nuts | Spare ribs |
| Orange and pineapple slices | |
Calories and Fat Content of Chinese Dishes
| Food (serving or 1 Cup) | Cal | Fat(g) | Sodium (mg) |
| --- | --- | --- | --- |
| Almond Chicken | 281 | 14.7 | |
| Barbecued Pork | 543 | 34.5 | |
| BBQ Spare Ribs (4) | 600 | 14 | 900 |
| Beef Chow Mein | 320 | 19.5 | |
| Beef Teriyaki | 150 | 10 | |
| Beef with Broccoli | 900 | 9 | 3,200 |
| Braised Beef with Vegetables | 250 | 12 | |
| Broccoli In Garlic Sauce | 150 | 6 | |
| Chicken & Corn Soup | 160 | 4 | |
| Chicken and Broccoli | 300 | 14 | |
| Chicken Balls With Sweet and Sour Sauce | 162 | 1 | |
| Chicken BallServing Size | 45 | 6.3 | |
| Chicken Chow Foon | 1,200 | 7 | 3,400 |
| Chicken Chow Mein | 700 | 10 | 2,500 |
| Chicken Congee | 181 | 6 | |
| Chicken Curry | 476 | 0 | |
| Chicken Egg Foo Yung | 220 | 12 | |
| Chicken Fingers | 58 | 3 | |
| Chicken Noodle Soup | 245 | 4.3 | |
| Chicken with Black Bean Sauce | 700 | 5 | 3,800 |
| Chinese Sesame Chicken | 415 | 17 | |
| Chinese Spring Roll (1) | 115 | 0 | |
| Combination Chow Mein | 1,200 | 9 | 3,600 |
| Combination Fried Rice | 1,500 | 10 | 2,700 |
| Combination Lo Mein | 1,100 | 7 | 3,500 |
| Crab Rangoon | 67 | 4.7 | |
| Crab Soup | 160 | 4 | |
| Crispy Skin Chicken | 408 | 22.9 | |
| Dim Sims, fried | 100 | 4 | |
| Dim Sum | 170 | 12 | |
| Egg Drop Soup | 100 | 0 | 900 |
| Egg Roll (1) | 200 | 2 | 400 |
| Eggplant in Garlic Sauce | 1,000 | 13 | 2,000 |
| Fish Steamed with Black Bean Sauce | 46 | 2 | |
| Fried Rice | 363 | 14 | |
| Fried Rice Broccoli Beef | 109 | 5 | |
| Fried Tofu (Bean Curd) | 77 | 5.7 | |
| General Tso's Chicken | 310 | 5 | |
| General Tso's Tofu | 534 | 17.2 | |
| Ha Gao, Money Bag, Dim Sum | 44 | 1 | |
| Hot & Sour Soup | 100 | 1 | 1,100 |
| Kung Pao Chicken | 432 | 30 | |
| Kung Pao Shrimp | 345 | 19.9 | |
| Lemon Chicken | 1,400 | 13 | 700 |
| Ma Po (Hunan) Tofu | 600 | 4 | 2,300 |
| Moo Goo Gai Pan | 600 | 4 | 1,800 |
| Mu Shu Pork | 1,000 | 13 | 2,600 |
| Orange (Crispy) Beef | 1,500 | 11 | 3,100 |
| Pan Fried Tofu | 251 | 20 | |
| Peking Duck | 650 | 55 | |
| Pork Chop Suey | 271 | 19.8 | |
| Pork Dumplings (6 steamed) | 500 | 6 | 900 |
| Pork with Fried Rice | 335 | 13 | |
| Prawn Crackers, large | 45 | 2 | |
| Roast Pork Egg Roll | 113 | 6.2 | |
| Roasted Duck With Skin | 36 | 2 | |
| Roasted Pork Belly | 31 | 3 | |
| Seafood Delight | 425 | 22 | |
| Shark's Fin Soup | 220 | 10 | |
| Shrimp and Broccoli | 498 | 11 | |
| Shrimp Lo Mein | 512 | 20.8 | |
| Shrimp with Garlic Sauce | 700 | 4 | 3,000 |
| Shrimp with Lobster Sauce | 400 | 3 | 2,300 |
| Shrimp With Mixed Vegetables | 159 | 6.9 | |
| Spring Roll Fried (1) | 100 | 1 | 300 |
| Steamed Chicken and Vegetables | 120 | 2 | |
| Steamed Egg With Minced Pork | 177 | 13 | |
| Steamed White Rice | 187 | 0.3 | |
| Stir Fried Vegetables With Rice Vermicelli | 450 | 15 | |
| Stir-Fried Greens | 900 | 11 | 2,200 |
| Stir-Fried Mixed Vegetables | 500 | 2 | 2,200 |
| Stir-Fried Udon Noodle With Diced Chicken | 574.5 | 7.6 | |
| Sweet & Sour Pork | 1,300 | 13 | 800 |
| Sweet & Sour Prawn | 257 | 8.8 | |
| Szechuan String Beans | 600 | 6 | 2,700 |
| Tang Su Yu | 308 | 20 | |
| Terriyaki, Chicken | 6.1 | 17.5 | |
| Tofu & Mixed Vegetables | 900 | 9 | 2,200 |
| Tso's Chicken | 1,300 | 11 | 3,200 |
| Vegetable Dumplings (6 steamed) | 400 | 3 | 1,100 |
| Vegetable Lo Mein | 30 | 0 | |
| Wantons, Medium, fried | 110 | 8 | |
| Wonton Soup | 100 | 1 | 800 |
Related Articles
=> Vietnamese Food Calories - Healthy Low Calorie Choices
=> Thai Food Calories - How to Make Healthier Choices
=> At Last - Cause of Global Obesity Identified - We Passively Eat Too Many Calories
=> Korean Food Calories - Healthy Low Calorie Choices for Eating In or Out
=> Calories in White Wine and Nutrition Facts for White Wine Styles, Varieties
=> What Fruit is Healthiest For Calories, Fiber, Fat, Vitamins, Minerals
=> Avocado Nutrition Facts - Calories, Fat, Protein, Vitamins, Minerals
=> Calories in Red Wine, Nutrition Facts for Red Wine Varieties and Styles