Best Green Smoothie Recipes - Healthy, Nutritious Green Smoothies for Weight Loss
As Kermit the frog said: "It's not Easy being Green". The green smoothie is an acquired taste, and the appearance can be confronting. But there are many varieties to choose from, and once you get over the color, green smoothies can really be appreciated for their nutrition, low calories, high fiber and flavor.
Some green smoothies are over-powered by raw spinach and other leafy green vegetables. They can taste very bland and insipid. But you can use many green fruits and add other green vegetable ingredients that you really like.

This article includes eight of the best green smoothies recipes. There are many options to choose from and you can make your own variations to suit.
The emphasis in on fresh fruit and vegetables, and wholesome nutritious ingredients added for flavor and health benefits.
You will need a blender of food processor to make these green smoothies.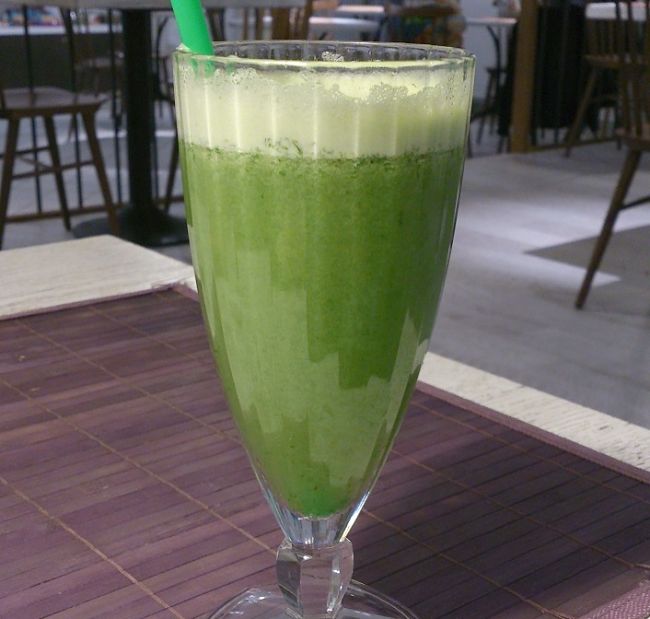 Pineapple, Spinach and Yogurt Green Smoothie
3/4 cup water
1 medium ripe, but firm banana
1 teaspoon coconut oil (optional)
1 cup of plain Greek yogurt (low-fat, if preferred)
1 cup of fresh (preferred), frozen or canned pineapple
3 cups of fresh spinach leaves (washed and shaken dry)
Method

Place all ingredients in a blender or food processor, and blend until smooth.
Green Goddess Smoothie with Kiwifruit
16 ice cubes
1 1/2 cup fresh spinach
2 kiwifruit (peeled, sliced)
1 green pear (cored, chopped)
1 green apple (cored, chopped)
1 cucumber (peeled, finely chopped)
Method

Put the spinach in a blender, first, and then add all the other ingredients.Blend on high speed for about one minute and serve in a tall glass with a sprig of mint.
Vitamin C Rich, Green Smoothie with Oranges and Pineapple
1/2 cup water
1 orange, peeled, quartered
1 banana, sliced, then frozen
1/2 cup orange juice (fresh preferred)
1 cup fresh baby spinach (washed and shaken dry)
1/2 cup pineapple chunks (fresh preferred or canned)
Method
Place all the ingredients into a blender bowl. Cover and pulse several times, stopping to push down ingredients that stick to the sides. Finish with a longer pulse to ensure the mixture is smooth.
Peaches and Berries Green Smoothie with Flaxseed (makes 2)
1 peaches (medium)
2 cup apple juice
2 tablespoon flaxseed
4 cups baby spinach leaves (washed)
2 large banana (chopped and frozen)
1 cup blueberries (fresh or frozen)
Method

Blend all the ingredients on high for 1-2 minutes, until smooth.
Coconut, Apple and Yogurt Green Smoothie
1 cup ice
1 cup spinach
1/2 cup coconut milk
2 tablespoons shaved fresh coconut
1 large banana, peeled, chopped, frozen
1 large green apple, peeled, cored and chopped
1/2 cup plain Greek yogurt (low-fat, if preferred)
Method

Blend all ingredients until very smooth. Serve immediately.
Rich Green Smoothie with Dates and Cashews
3 pitted dates
1 frozen banana
3 cups baby spinach
1/2 teaspoon vanilla
1/4 cup roasted cashews
1 tablespoon ground flaxseeds
2 cups vanilla almond milk (unsweetened)
Method

Blend all the ingredients well until very smooth. This version is high in calories, but rich in nutrients.
Tangy Green Smoothie with Herbs, Cucumber, Ginger and Lemon
1 cup water
1/2 cup ice
6 mint leaves
1/2 celery, finely chopped
6 parsley leaves and stalks
1-2 cups baby spinach leaves
1 small pieces of fresh ginger root
1 green apple, unpeeled, finely chopped
1 small Lebanese cucumber finely chopped
1 whole lemon, peeled and finely chopped (or 2 limes)
Method

Combine all the ingredients into a blender and pulse until smooth. Garnish with lime slices. mint or celery leaves.
Nutrient Rich Green Smoothie
1 cup oat milk
1 cup coconut water
a pinch of cinnamon
1 teaspoon spirulina
1 teaspoon probiotics
1/4 cup frozen berries
2 teaspoons flaxseed meal
2 tablespoons natural yogurt
1 tablespoon organic coconut oil
1 teaspoon of honey (for sweetness)
Method

Place all ingredients into a blender and pulse until smooth.
Related Articles about Smoothies
=> Are Fruit Smoothies Actually Healthy? Fact or Fiction?
=> Healthy Breakfast Fruit Smoothies - Best Tips and Recipes
=> Simple Healthy Smoothie Recipes for Adults - Low Carb, Low Fat Snacks for Weight Loss