Calories Homemade Caesar Salad versus Fast Food Types
Caesar salad is one of the most popular salad choices when eating out or preparing a homemade salad as a side dish, quick meal or a snack. Many people choose a chicken Caesar salad as a healthy alternative on the fast-food menu to control their calorie and fat consumption.
However, Caesar salad and many other salads are a real trap for the unwary, because they may contain more calories and fat than a double Quarter Pounder with cheese or two slices of pizza.
Many so-called healthy choices at restaurants contain healthy salad ingredients, but in the wash-up are far from healthy because of the cheese, vinaigrette, drizzles of olive oil, mayonnaise and other high calorie items added to them.

This article examines the calorie content of common salad choices to identify the healthiest ones.
It also breaks down the calories in common ingredients used to make Caesar salad to identify the culprits causing the problem.
Finally there are some low-cal and low-fat Caesar salad recipes for you to try.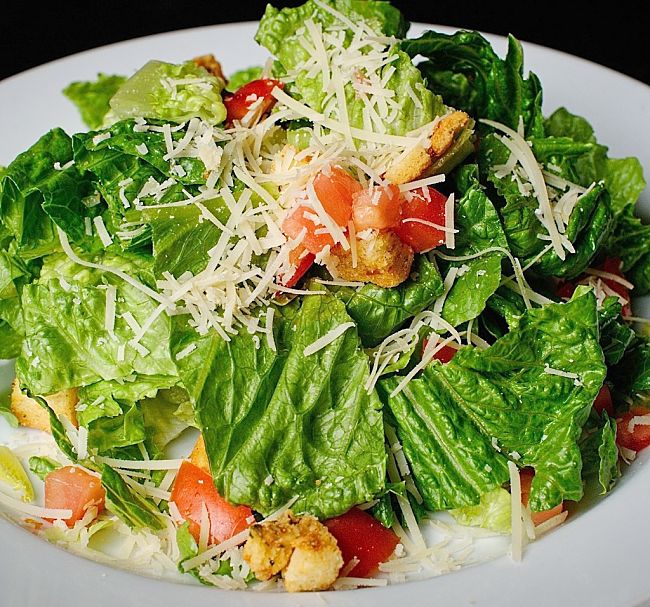 Best and Worst 'Healthy' Salad Choices
The chart at the end of the article summaries the the calorie content of common salad choices to identify the healthiest ones and the worst ones.
Many healthy choices on the menu are far from healthy.
The types listed contain beans, chicken, ham and other ingredients apart from the salad greens. These type of salads are the ones that many people choose as healthy alternatives.

It also shows the ingredients used to make the various salads to identify what is the cause of the problem. The salads are listed from lowest calorie count to the highest for a standard serving. The total calories per serve ranged from 240 to a whopping 783 calories, which exceeds the calories in many of the other menu items not regarded as healthy.

Three key ingredients can make or ruin your fast food salad choice of a healthy meal:
Chicken and bacon with the cooking method being very important. Grilled is better. Crispy deep dried and coated styles, are far worse
Salad dressing and or mayonnaise that contains a lot of oil and sugar.
Cheese can quickly pile up the calories and fat.
In many cases the amount of these ingredients is in your control.
Ask for the dressing and cheese to be served separately. Choose grilled or baked chicken, skin-off

The best fast food entrée, and healthy alternative salads have these characteristics:
No more than 5 grams of saturated fat
Preferably less than 15 grams of total fat, or the extra fat is derived from nuts, which contain healthier types of fats.
Good level of protein. Adding meat ingredients is always going to be a trade-off between boosting the protein level.
Best and Worst Caesar Salad Choices
The second table below shows the major nutrients and calories for a range of Caesar salads. This includes side salads, entrée and 'meal-size' salads. The salads are list from lowest calories to highest.

Once again there is a huge range from 40 to 1050 calories per serve.

The message is clear - choose your Caesar salad options wisely!
Calories and Nutrients in Caesar Salad Ingredients
It is informative to examine how much the various ingredients in a typical homemade Caesar salad contribute to the totals. the table below makes this comparison.
The items are ranked in terms of their percentage contribution to total calories.
The key points are:
Highest contribution, nearly 30% is from the cheese sprinkled on top.
About 25% is from the mayonnaise, even though it is a low fat variety.
The cheese and mayonnaise, both optional additions to the salad contribute more than half the calories and 90% of the fat.
A break down of the major nutrients in a homemade Caesar Salad is shown below.
Contribution of Ingredients to Calories in Low-Fat Caesar Salad
| Item | Amount | Fat (g) | Carbohydrates (g) | Calories | Percent of total calories |
| --- | --- | --- | --- | --- | --- |
| Parmesan cheese | 1/4 cup grated | 9 | 8 | 92 | 28.6% |
| Mayonnaise, reduced fat | 1/2 cup | 0 | 8 | 80 | 24.8% |
| Lettuce, Romaine | 2 heads | 0.2 | 7.6 | 60 | 18.6% |
| Croutons | 1/2 cup | 1 | 10 | 57 | 17.7% |
| Lemon juice | 1 lemon | 0.2 | 5.4 | 17 | 5.3% |
| Anchovy fillet | 1 each | 0.4 | 0 | 8.4 | 2.6% |
| Garlic cloves | 2 each | 0 | 2 | 8 | 2.5% |
| Recipe Totals | | 10.8 | 41 | 322 | |
Nutrient Chart for Homemade Caesar Salad
| Nutrients in Homemade Caesar Salad (100g) | Value |
| --- | --- |
| Calories | 130 |
| Total Fat (g) | 11 |
| Saturated Fat 2(g) | 2 |
| Trans Fat (g) | 0 |
| Polyunsaturated Fat (g) | 0 |
| Monounsaturated Fat (g) | 0 |
| Calories from Fat | 99 |
| Cholesterol (mg) | 10 |
| Sodium (mg) | 400 |
| Total Carbs (g) | 7 |
| Fiber, total dietary (g) | 2 |
| Sugars, total (g) | 2 |
| Protein (g) | 2 |
| Vitamin A (IU) | 4000 |
| Vitamin C (mg) | 15 |
| Calcium (mg) | 40 |
| Iron (mg) | 0.72 |
Low-Fat, Low-Cal, Caesar Salad Recipe
1 Romaine lettuce, hearts only the inner, more tender leaves
4 tablespoons (1/4 cup) freshly-grated, or sliced Parmesan Cheese (Parmigiano-Reggiano), better to use a small amount of a good quality cheese than a low-fat one that resembles cardboard
2 to 3 tablespoons water (to get the thickness you want)
1/2 cup low-fat or light mayonnaise
1/2 teaspoon Worcestershire sauce
Juice of one lemon
Pinch of coarse salt
2 anchovy fillets, chopped with a fork
2 finely chopped or minced garlic cloves, finely chopped
1/2 cup salad croûtons (your choice, they do add calories)
Coarsely-ground black pepper
Separate the lettuce leave, discarding the coarse outer leaves. Wash, drain, and shake or pat dry the leaves to remove excess water leaves. If you can wrap the leaves in a towel and refrigerate as chilled leaves are best. Plunge into iced water for the same effect. Add the lettuce leaves to a large bowl. Add the, croûtons and other ingredients. Add the dressing, a little at a time; toss to coat the leaves, and sprinkle on the Parmesan cheese and pepper.
Low-Fat Chicken Salad - Note serve in small portions
2 baby cos lettuce, washed, patted dry
2 tablespoons grated or shaved Parmesan cheese(half for garnish)
2 tablespoons low-fat mayonnaise
1/2 cup (125g) low-fat natural yogurt
1 tablespoon white wine vinegar
2 anchovies
4 slices prosciutto, trimmed of fat
2 skinless chicken breasts, with any fat removed
2 teaspoon Dijon mustard
2 garlic cloves, chopped or crushed
1/4 cup (60ml) lemon juice
2 thick slices good-quality wholemeal bread, crusts removed, cut into small cubes
Freshly ground pepper
Preheat the oven to 350 degrees F (180 degrees C). Put the bread cubes onto a baking tray and bake for about 10 minutes or until golden (better than the bought croûtons that have no nutrients). In a medium size bowl, mix half the garlic, 2 tablespoons lemon juice and half the mustard. Position each chicken breast in the center of a 12 inch, square (30cm square) piece of foil, spoon over some of the lemon and mustard mixture. Season the chicken with pepper and salt. Gather the edges of the foil and fold to make a semi-sealed parcel. This process ensures the chicken breasts will be as moist as possible and tender when cooked. Place the parcels on a baking tray. Bake in the oven for about 15 minutes, until the chicken is just cooked, but thoroughly cooked right through. Allow to cool. Next, place the prosciutto on a baking tray and bake until crisp (about 5 minutes). Remove, drain, cool and break into small pieces. Make a dressing by adding the garlic, remaining lemon juice and mustard in a food processor with the anchovies, yogurt, vinegar, mayonnaise and grated Parmesan and pulsing until smooth and creamy. Season with pepper and salt.
Step 6

Assemble the Caesar salad by placing the town lettuce leaves in a bowl. Drizzle with some of the dressing, made as described. Break the chicken into pieces, and add to bowl with the prosciutto and croûtons, then toss to mix well. Serve into small bowls and garnish with extra Parmesan.

Approximate Nutrients: 278 calories; 6 g fat ( 2 g sat , 2 g mono ); 34 g protein; 14 g carbohydrates; 1 g fiber; 74 mg cholesterol.
Nutrients and Ingredients in Common Salad Types
| Type of Salad | Ingredients | Calories | Fat (g) | Sat. Fat (g) | Sodium (mg) | Fiber (g) | Protein (g) |
| --- | --- | --- | --- | --- | --- | --- | --- |
| Taco Bell Steak Fiesta Taco Salad (Fresco Style) | Beans, fiesta salsa, lettuce, rice, steak, tomato. | 220 | 6 | 2 | 810 | 5 | 17 |
| Taco Bell Chicken Fiesta Taco Salad (Fresco Style) | Beans, fiesta salsa, lettuce, rice, southwest chicken, tomato. | 240 | 6 | 1 | 720 | 5 | 23 |
| KFC Grilled Chicken BLT Salad (with Hidden Valley Ranch Fat-Free dressing) | Lettuce, oven-roasted chicken, diced tomatoes, bacon bits. | 265 | 8 | 2.5 | 1330 | 4 | 36 |
| Jack in the Box Grilled Chicken Salad (with Low-fat Balsamic dressing) | Mixed salad greens, grilled chicken tenders, cheddar cheese, grape tomatoes, red onions, cucumbers, carrots. | 271 | 11 | 4 | 1018 | 3 | 28 |
| Chick-fil-A Chargrilled Chicken Garden Salad (with Fat-Free Honey Mustard) | Lettuce, carrots, grape tomatoes, broccoli florets, Jack and cheddar cheeses, grilled chicken, garlic and butter croutons, honey-roasted sunflower kernels. | 280 | 6 | 4 | 810 | 5 | 23 |
| Carl's Jr. Original Grilled Chicken Salad (with Low-Fat Balsamic Vinaigrette) | Mixed greens, grilled chicken, red onions, shredded cheese, tomatoes, and cucumber slices. | 315 | 15 | 4.5 | 1330 | 2 | 17 |
| Chick-fil-A Chargrilled Chicken & Fruit Salad (with Reduced-Fat Berry Balsamic Vinaigrette) | Lettuce, carrots, Jack and cheddar cheeses, grilled chicken, fresh fruit medley, Harvest Nut granola. | 330 | 10 | 4 | 700 | 5 | 22 |
| McDonald's Premium Southwest Salad with Grilled Chicken with Southwest dressing) | Mixed greens, oven-roasted tomatoes, fire-roasted corn, black beans, poblano peppers, cheddar & jack cheeses, and tortilla strips. | 390 | 14 | 3.5 | 990 | 7 | 28 |
| Burger King Tender Grill BLT Salad (with Avocado Ranch dressing) | Lettuce, carrots, tomatoes, cheese, crispy chicken. | 550 | 37 | 10 | 1640 | 4 | 36 |
| Chick-fil-A Chick-n-Strips Salad (with Buttermilk Ranch dressing) | Lettuce, carrots, grape tomatoes, broccoli florets, Jack and cheddar cheeses, fried chicken strips, garlic and butter croutons, honey-roasted sunflower kernels. | 560 | 34 | 8 | 1160 | 4 | 40 |
| Wendy's Apple Pecan Chicken Salad (full-size with 2 packets Pomegranate Vinaigrette Dressing) | Ingredients: Salad greens, blue cheese crumbles, dried cranberries, apple chunks, grilled chicken fillet, toasted pecans. | 570 | 27 | 8 | 1340 | 6 | 37 |
| McDonald's Premium Bacon Ranch Salad with Crispy Chicken (with Ranch dressing) | Mixed Greens, grape tomatoes, carrots, jack and cheddar cheeses, bacon, crispy chicken. | 570 | 36 | 8 | 1400 | 3 | 27 |
| Jack in the Box Southwest Chicken Salad with Grilled Chicken Strips and Creamy Southwest Dressing | Iceberg, romaine & spring mix with crispy chicken strips, shredded pepper jack cheese, black beans, red onions, grape tomatoes, roasted corn and served with southwest dressing and spicy corn sticks. | 600 | 36 | 9 | 1805 | 5 | 35 |
| Arby's Chopped Farmhouse Chicken Salad, Crispy (with Buttermilk Ranch dressing) | Salad greens, crispy chicken, pepper bacon, cheddar cheese. | 640 | 46 | 12 | 1310 | 4 | 29 |
| KFC Crispy Chicken Caesar Salad (with Creamy Parmesan Caesar dressing and croutons) | Lettuce, crispy chicken, Parmesan cheese, Parmesan garlic croutons. | 670 | 47 | 9.5 | 1630 | 3 | 31 |
| Taco Bell Chipotle Steak Taco Salad | Crispy tortilla bowl, steak, beans, cheddar, rice, lettuce, tomatoes, tortilla strips, reduced-fat sour cream, and citrus salsa. | 740 | 37 | 8 | 1200 | 9 | 32 |
| Jack in the Box Chicken Club Salad with Crispy Chicken Strips (with Bacon Ranch dressing) | Mixed salad greens, crispy chicken, bacon, cheese, seasoned croutons. | 783 | 53 | 13 | 1946 | 3 | 34 |
Nutrients in a Range of Commonly Available Caesar Salads
| Salad | Fat (g) | Calories | Sodium (mg) |
| --- | --- | --- | --- |
| KFC Caesar Side Salad without Dressing & Croutons | 2g | 40 | 90mg |
| Wendy's Caesar Side Salad | 3g | 60 | 115mg |
| McDonald's Premium Caesar Salad (without chicken) | 4g | 90 | 180mg |
| Wendy's Lemon Garlic Caesar Dressing | 11g | 110 | 180mg |
| Wendy's Chicken Caesar Salad | 4g | 180 | 690mg |
| McDonald's Premium Caesar Salad with Grilled Chicken | 5g | 190 | 580mg |
| Blimpie Chicken Caesar | 7g | 190 | 610mg |
| KFC Grilled Chicken Caesar Salad without Dressing & Croutons | 6g | 200 | 570mg |
| Togo's Chicken Caesar - Full | 6g | 210 | 650mg |
| KFC Grilled Chicken BLT Salad without Dressing | 7g | 220 | 750mg |
| Habit Burger Side Caesar Salad, 1 Tbsp dressing | 15g | 220 | 380mg |
| El Pollo Loco Chicken Caesar Salad (no dressing) | 7g | 230 | 520mg |
| Wendy's Spicy Chicken Caesar Salad Half-Size | 13g | 250 | 620mg |
| Burger King Side Caesar Salad and dressing | 22g | 290 | 710mg |
| KFC Crispy Chicken Caesar Salad without Dressing & Croutons | 18g | 340 | 930mg |
| McDonald's Premium Caesar Salad with Crispy Chicken | 18g | 350 | 740mg |
| Quiznos Peppercorn Caesar with Chicken Salad Small | 31g | 370 | 810mg |
| Culver's Classic Caesar with Grilled Chicken | 15g | 384 | 1,274mg |
| Habit Burger Caesar Salad, with 2 Tbsp dressing | 29g | 450 | 720mg |
| Wendy's Spicy Chicken Caesar Salad | 25g | 470 | 1,240mg |
| El Pollo Loco Chicken Caesar Bowl | 22g | 490 | 1,200mg |
| Jersey Mike's Grilled Chicken Caesar Salad | 35g | 510 | 1,480mg |
| Quiznos Chicken Caesar Small Chopped Salad | 41g | 535 | 1225mg |
| Baja Fresh Fire-grilled Chicken Ceasar Salad | 39g | 600 | 1,110mg |
| Habit Burger Chicken Caesar Salad, with dressing | 39g | 690 | 890mg |
| Quiznos Peppercorn Caesar with Chicken Salad Large | 62g | 740 | 1,620mg |
| Taco Bell Chicken Ranch Taco Salad | 55g | 910 | 1,740mg |
| Quiznos Chicken Caesar Regular Chopped Salad | 63g | 920 | 2,090mg |
| Quiznos Peppercorn Caesar with Chicken Salad Wrap | 70g | 1050 | 2350mg |